How Long Are Chinese Leftovers GOOD For?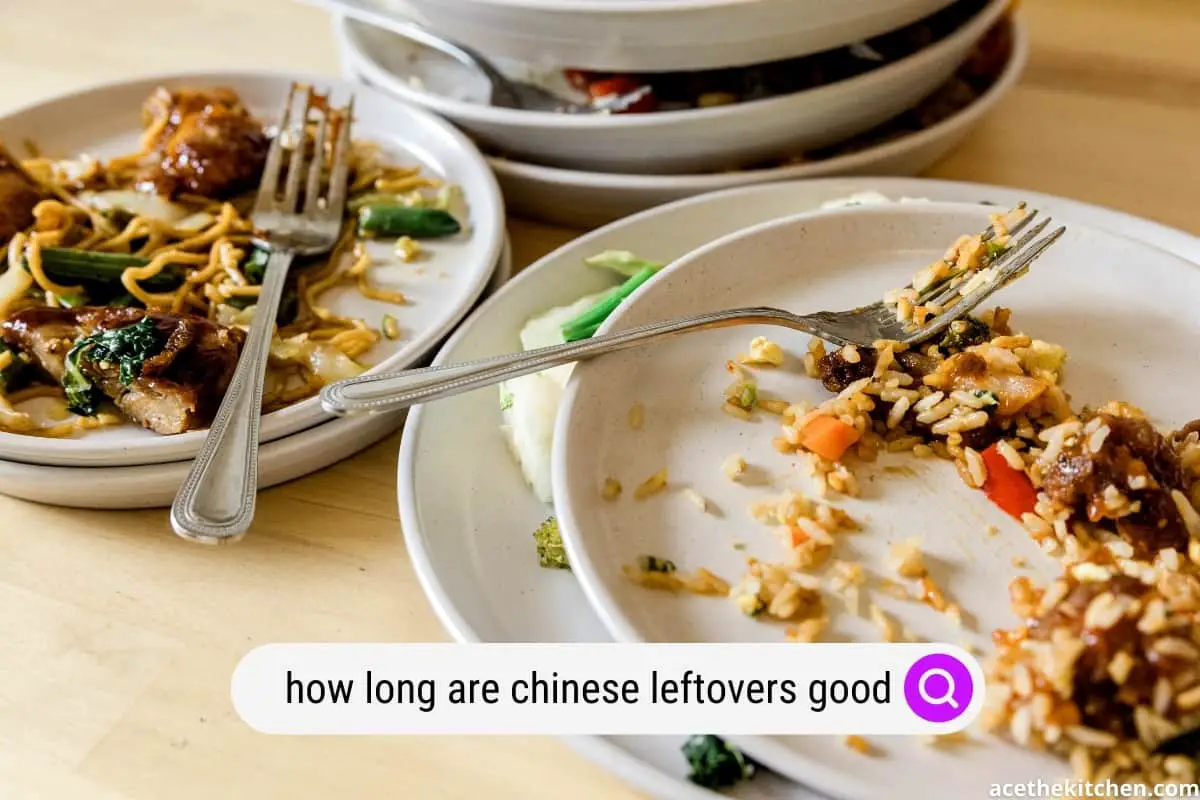 On those days when cooking is the last thing on your mind, ordering some takeout is often an appealing option. You will worry less about washing the dishes and skipping some episodes of your favorite Netflix show. But sometimes, we find ourselves ordering more than we need. 
Typically, this happens when we're hungry. We assume that we will eat a lot, but we have leftovers to deal with in the end. That's why you're wondering – how long are Chinese leftovers good for?
Like most folks, you might overlook the importance of confirming how long the food will stay fresh and throw it in the fridge. But it's worth noting that there's a limit on how long the foods can stay fresh in the refrigerator.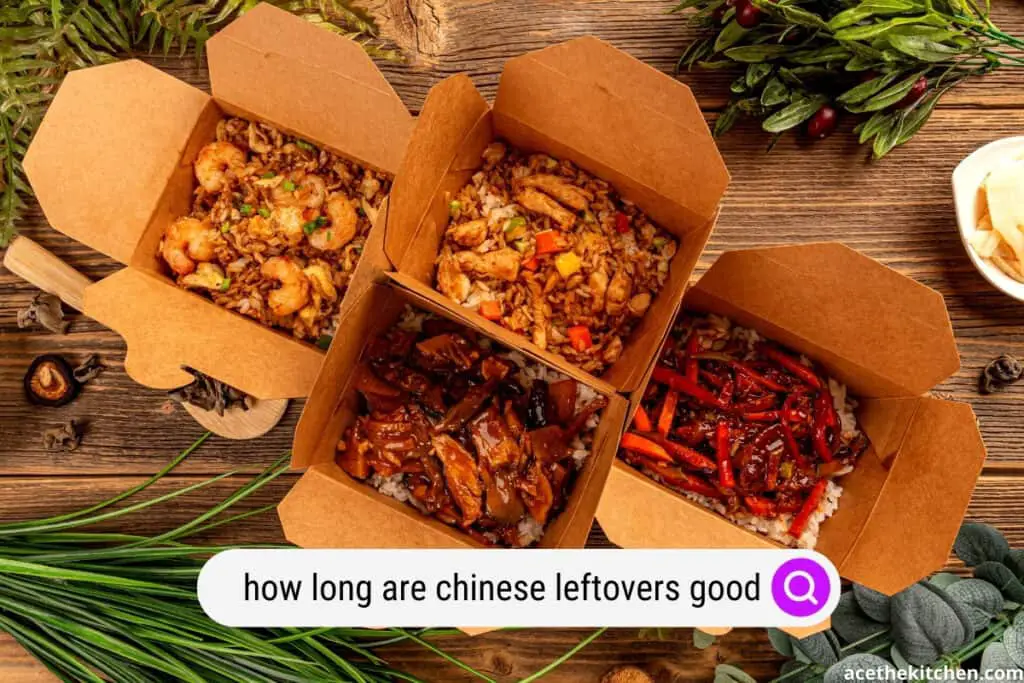 How Long Are Chinese Leftovers Good For?
Well, leftover Chinese food can last for about three to four days. However, this depends on the time the restaurant prepared the food. If you're unsure when that was, you should consider eating the food as soon as possible. Even after refrigerating the food, you'll want to confirm whether it has gone stale.
Some types of Chinese food might last longer than others, as shown below:
| | |
| --- | --- |
| Chinese Takeout Food | Good For  |
| Fried rice | 4-5 Days |
| Chop suey | 3-4 Days |
| Cooked dumplings | 3-5 Days |
Simply knowing that you should discard leftover Chinese food after three to five days isn't enough. You should know how to store the food safely as well. Proper storage also guarantees you don't become a victim of food poisoning. 
For instance, refrigerate foods like Kung Pao chicken and tuna salad within two hours after serving. The earlier you do this, the better and the more likely you will enjoy your Chinese takeout later.
How To Store Chinese Leftovers
Leaving your leftover Chinese on your kitchen counter is never a good idea. Whether you intend to eat the food after a few hours, it's advisable to refrigerate it. It doesn't take minutes to store your food in the fridge safely. Remember, the cold temperatures keep the food fresh and fit for consumption.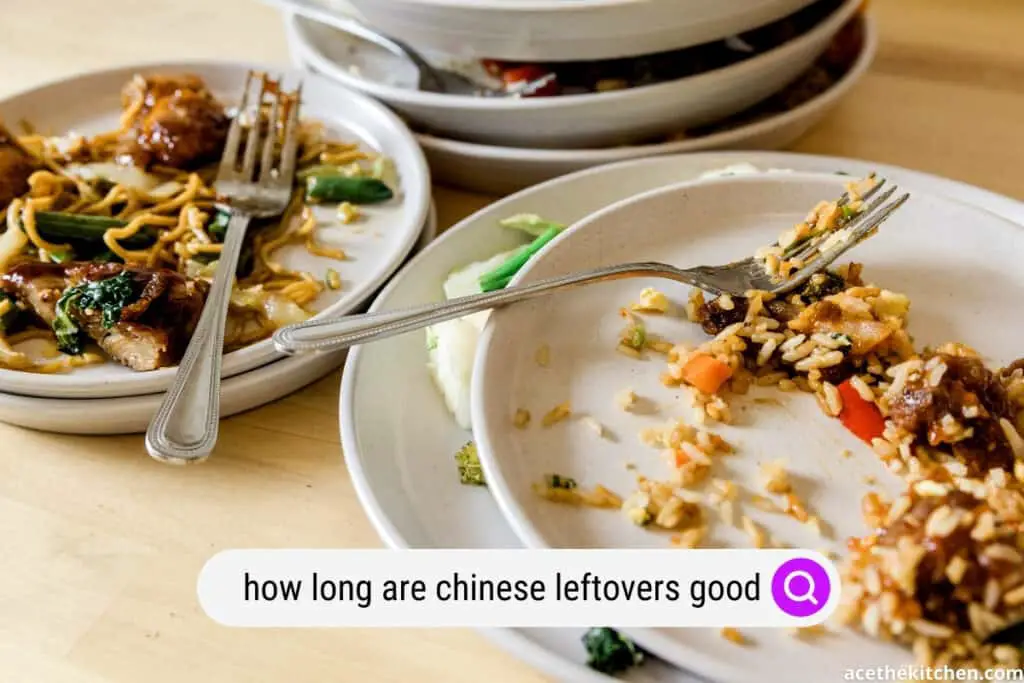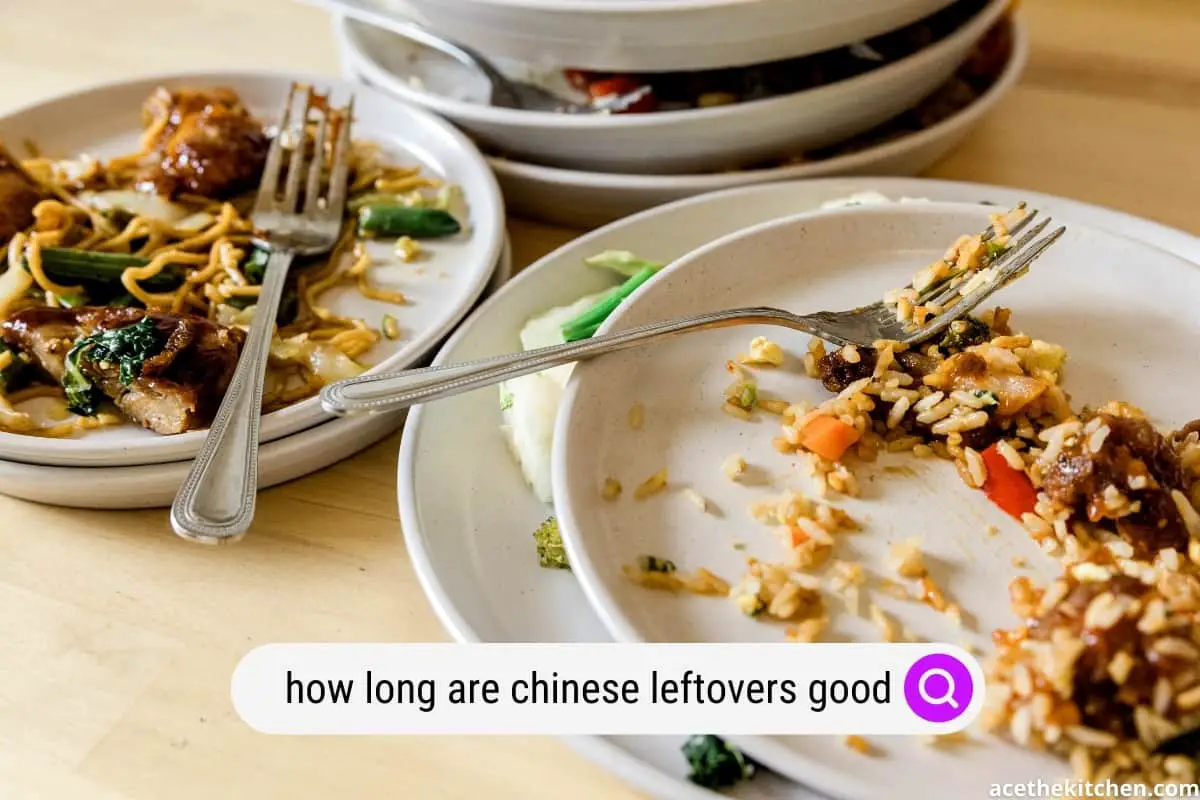 If you have plenty of leftovers to deal with, you'll want to store the food in an airtight container. Instead of piling all the food in one container, use smaller containers because of the uneven cooling impact in the fridge.
Most people forget to use different containers for storing leftover Chinese. The containers the food came with aren't ideal for long-term storage. So, you must reconsider repackaging in the mentioned airtight containers.
If you're unsure whether your containers are airtight, use a cling wrap. The aim is to make sure little air gets to your food. Ensuring that happens can prevent the likelihood of bacterial growth.
How Long Do Chinese Leftovers Last in the Fridge?
As noted above, leftover Chinese can last up to five days in the fridge. But this depends on the type of Chinese food. The table above shows that some dishes might last longer than others.
Despite the variation, it's worth noting that most people don't leave their leftover Chinese for more than three days, which is a good thing.
The problem with leaving your Chinese takeout for more than three days is that you can't be sure whether the food has gone bad. In this period, the food might not portray any signs of getting old. For instance, even looking at its appearance or tasting it won't tell you the takeout is worth throwing in the bins. The chances are that the food won't smell off.
So, there's no clear indication that you should eat Chinese takeout. To be cautious, store the leftover Chinese for a maximum of two to three days. Beyond this, you would be taking a risk.
How Long Are Chinese Leftovers Good For in the Freezer?
Now that you are thinking about storing the leftover Chinese in the refrigerator, you might be curious whether it's okay to place it in the freezer for longer shelf life.
It's okay to store leftover Chinese takeout in the freezer. You can keep it for up to three months. Popular Chinese foods like Chow mein, fried rice, and other main course menus can last longer in the freezer. How you store the food matters a lot. 
If you don't put away the leftover food correctly, it might affect its quality and taste. So, it's not just about packaging and throwing the leftovers in the freezer for a month or longer.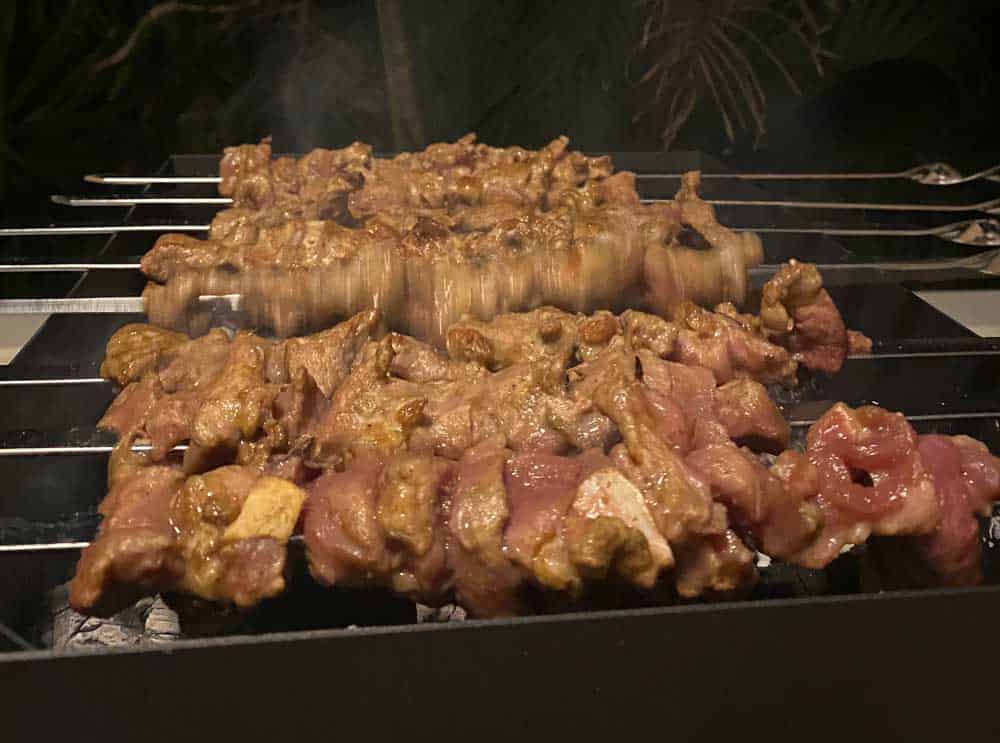 The Right Way to Freeze Chinese Leftovers
If you want to preserve your leftovers, you'll want to freeze them properly for later enjoyment. Here's what you need to know about freezing leftover Chinese. 
Use Aluminum/Plastic Resealable Containers
The best way to freeze any leftover food is to use airtight containers. Plastic containers are the best here, but you can also use aluminum so long as you can seal them.
Use Freezer-Friendly Plastic Bags
If you prefer using freezer-friendly plastic bags, ensure you do this cautiously to ensure that the bags are airtight. You should also store the frozen food items so that other foods don't overlap them.
Sometimes these plastic bags can tear, exposing your food to air and bacterial growth.
If you're wrapping up leftover Chinese, confirm that the food doesn't contain much oil. The food won't be fresh when you thaw it to eat in the future.
You shouldn't freeze hot leftover Chinese. Allow the food to cool down before freezing. Doing this will prevent freezer burns.
Since you're not sure when the restaurant prepared the Chinese food, it's good to refrigerate it immediately. Don't let it sit on the counter since it can go rotten anytime.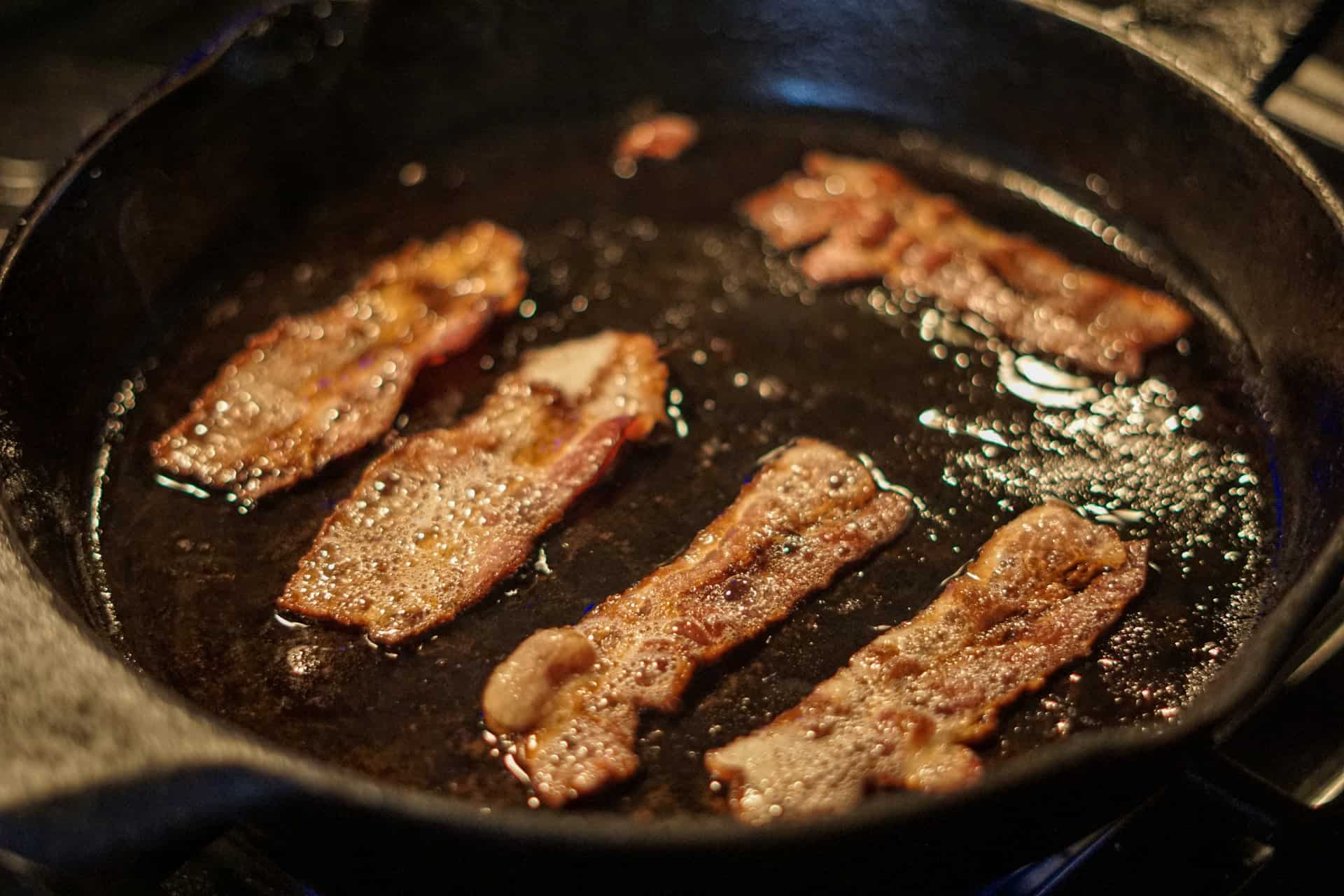 Thaw Your Chinese Leftovers
When ready to thaw your food, you should always give it ample time for the ice to melt. That means leaving the frozen food for some time is the best way to thaw it. Of course, you might be hungry and opt for a quick way to defrost it, but this could make the food go bad within a short time.
If you're planning to eat the leftover food the following morning, remove it from the freezer during the night and let it thaw gradually. Leave it overnight so that you don't affect the quality of the food by defrosting it in the microwave.
Signs Your Chinese Leftovers Have Gone Bad
After you know how to store your leftover Chinese, you'll also want to tell whether the food has gone off. But remember, there are instances where you might not accurately determine whether it's safe to eat your food.
If you have refrigerated the Chinese food for some time, ensure you do a quick smell check. Any foul smell will be a clear indication that it is not good to eat. If the food doesn't smell, taste it. If it tastes weird, don't waste your time forcing yourself to eat it. Use your gut instincts. If it's gotten old, it's unsafe. Throw it away.
Chinese takeaway can last about two to five days, depending on how you store it. However, you should refrigerate it for a maximum of three days. If you want to keep the leftover Chinese in the freezer, do this cautiously to ensure you store it safely for long-term use for up to three months.