Easy Japanese Curry Udon Recipe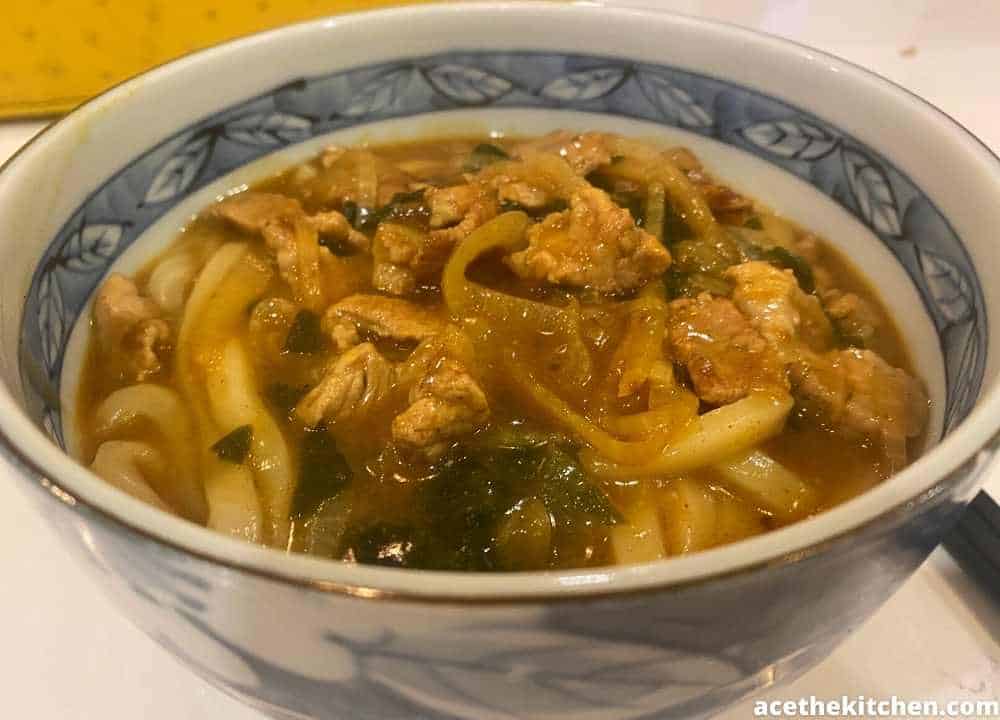 We love making fast and easy meals that are PACKED with flavor. Japanese curry blocks (famously golden curry) are versatile and can be used in a bunch of different recipes.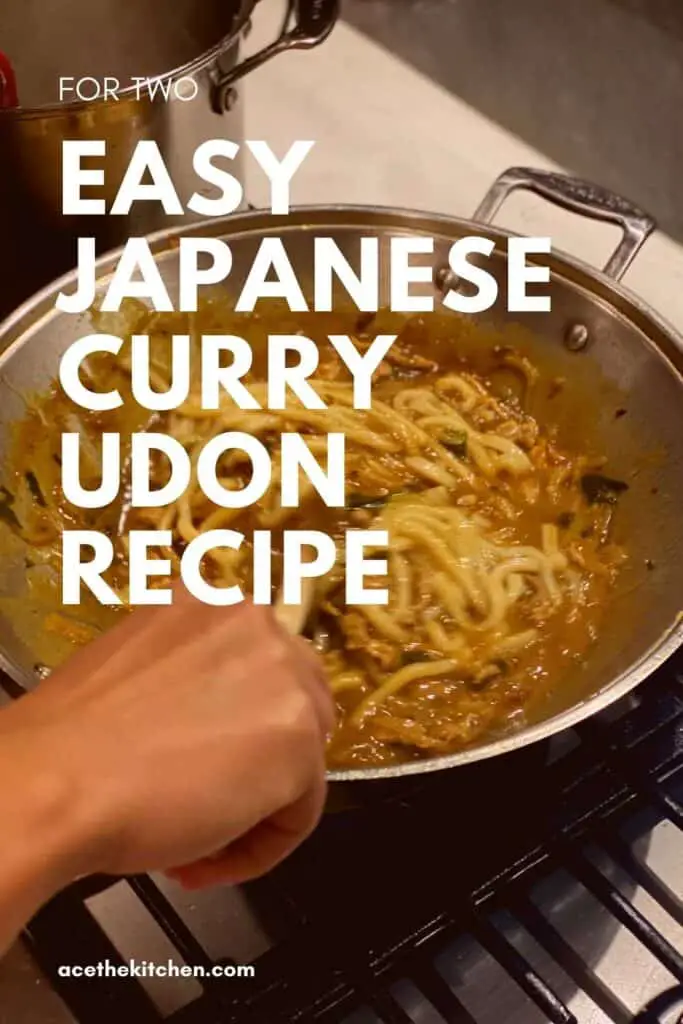 With a few pantry staples (and a single trip to an asian grocer) you can have everything on hand you need to make a smashing Japanese curry udon. This recipe will impress.
The recipe the way I make it serves two hungry people, just double it for company. Cooking this recipe for 4-10 is easily manageable and is a fast and easy way to feed a bunch of people while looking like a pro.
What exactly is Udon?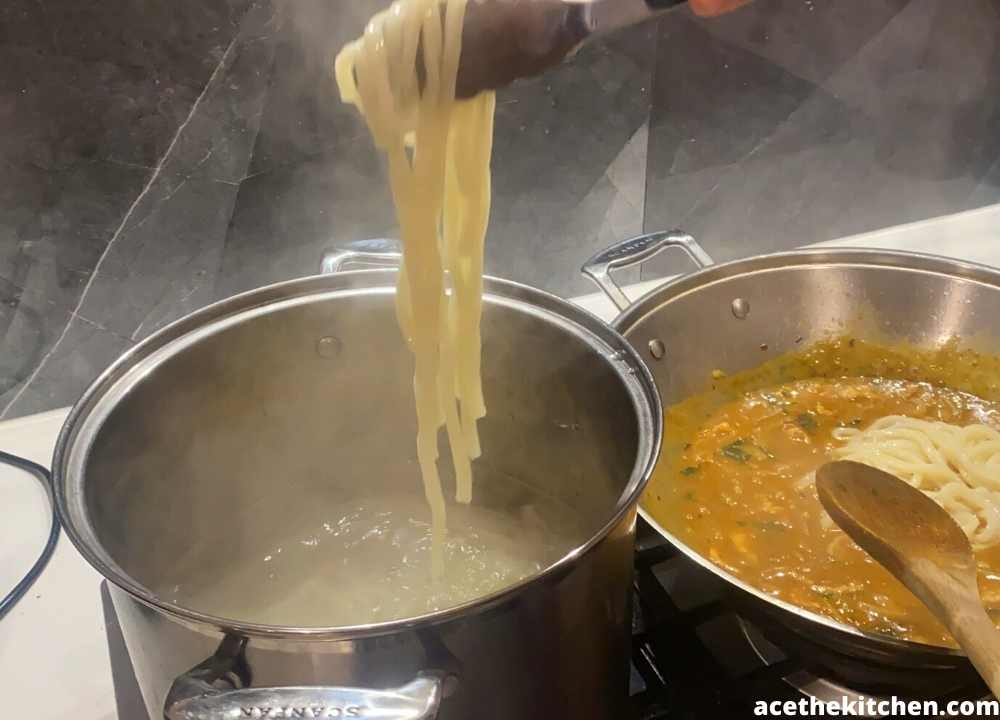 Udon noodles are a thick, white wheat flour noodle. They are one of the many famous noodle types popular in Japan (and the rest of the world).
Udon is most often served in a hot soup or cold with dipping sauces or with toppings such as tempura shrimp and vegetables
In the United States, Canada and Austrlia you can buy Udon in a few ways. But the best way is frozen. Grab a frozen packet of Udon (which lasts AGES in the freezer too) whenever you visit a asian grocer – or online from Amazon grocery.
Flavors You Can Add to Your Udon [Hack to Restaurant Quality]
We add a few different things to make our curry udon taste better (and be a little bit fancy). These are optional but worth experimenting with.
Dashi seasoning
Another Japanese classic, Dashi seasoning is a soup broth made from seaweed and dried fish (and cough cough some MSG). We use dashi seasoning to make the curry noodle sauce taste more authentic
Curry powder or chilli powder
You can really boost the flavor and intensity of heat in a curry udon by a adding more chilli. There are many ways to add chilli but given udon is a soup, powder is easy to sprinkle on to taste.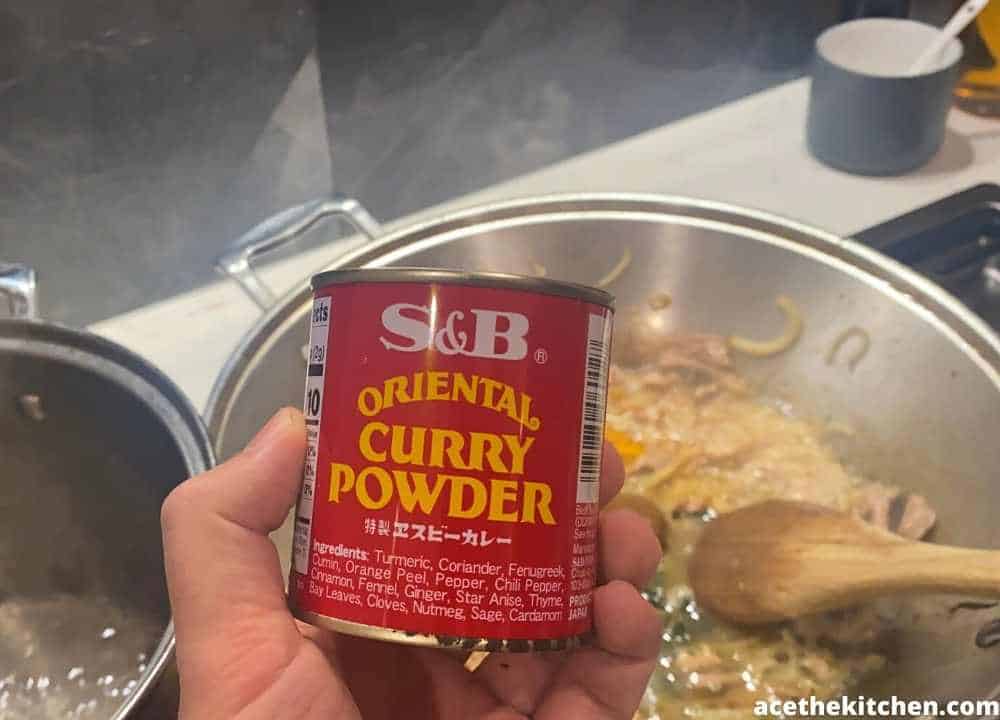 Wakame
Wakame is dried seaweed. You rehydrate it in a cup of boiling water, and then simmer it to make the broth taste better.
Miso paste
I don't see a need for this but some friends swear by adding some Miso paste to their udon mix. Adding miso paste is another way you can boost flavor – again udon noodles are soup so adding more liquid helps with that too. Miso adds depth and umami for sure!
What is Japanese Golden Curry?
The Japanese Golden Curry has been getting popular every year, and it's not hard to understand why! It's super easy to cook up at home, takes less than 30 minutes, tastes kickass and is versatile in its use. (Something fun to try – Golden Curry as a topper for French fries… seriously good).
Golden curry blocks are a convenience food that are also used as a cooking base for instant curry, or cut up and added to packaged rice.
They come in Mild, Medium Hot, and Super Hot varieties.
The basic steps to use Golden curry for anything are simple
Stir fry some protein or meat in oil
Stir fry onion (typically brown onion) with or without garlic
Add boiling water to the curry block
Use this mix as a base and add to other things (curry, some kind of carbohydrate etc)
For udon though, follow the recipe below and you are onto a winner
Steps to make Japanese Curry Udon for Two People:
Prepare the ingredients. The full recipe is in the card below, but here is the summary of what you need.
Pork (300 grams)
Golden Curry Dashi (Hot!)
Dashi seasoning 1 tsp
Extra curry powder 1 tsp(option)
Frozen Udon Noodles (1.5 packets per hungry person)
1 large brown onion
Chili powder 1tsp (optional)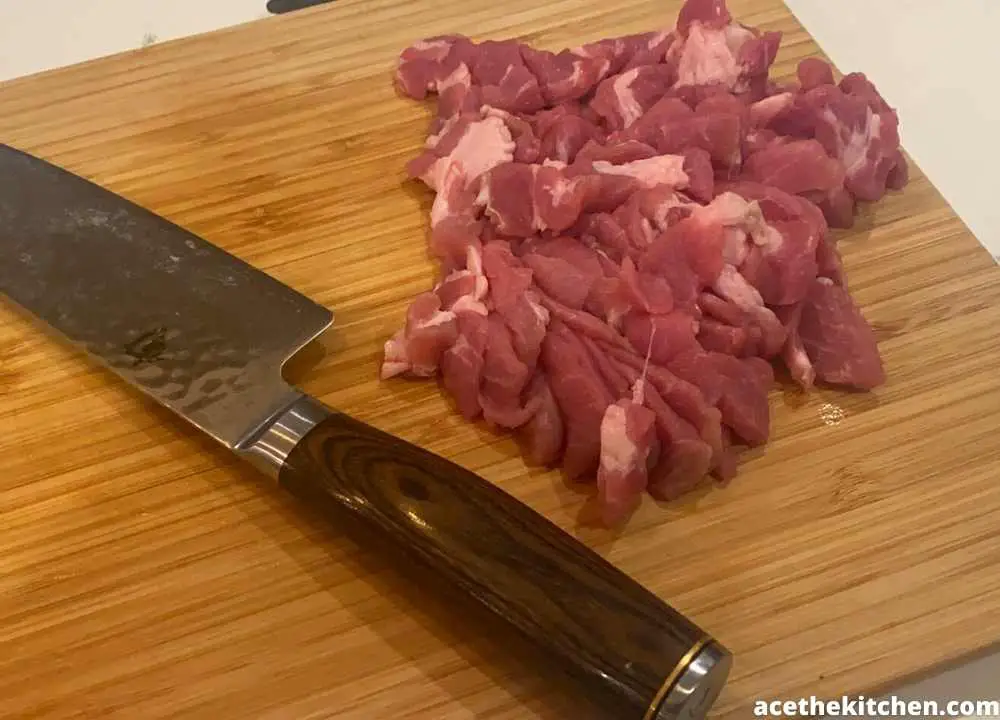 2. So you gotta slice the onion and pork. Uniformity is always welcome, but it does not really matter that much as this is a soup! (And we are home cooks heh).
I pick pork scotch fillet most of the time as it really lends itself to frying and is a vaguely lean cut of meat (kinda). I like to fry the slices of pork in the pan a little longer with the cooking oil until they are crispy on all sides. Texture!
If you are looking for a meat substitute , use tofu or seitan. This recipe also works fine with chicken breast cut to the same size.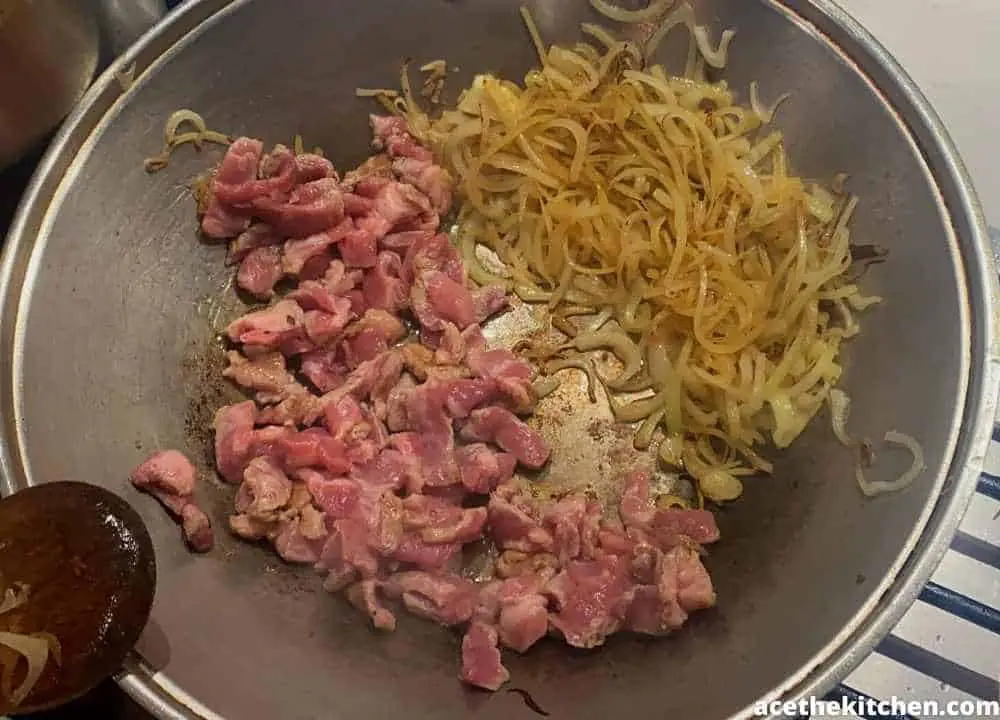 3. Once fried well, it is time to add the curry powder block and wakame. Just add the block directly to the onion and pork mix and add just under one cup of boiling water direct from the kettle.
4. Flavor time
Next, add curry powder, dashi and chili powder if desired (I always do). Fry and mix for 30 seconds then stir until it reaches boiling point/simmer point again.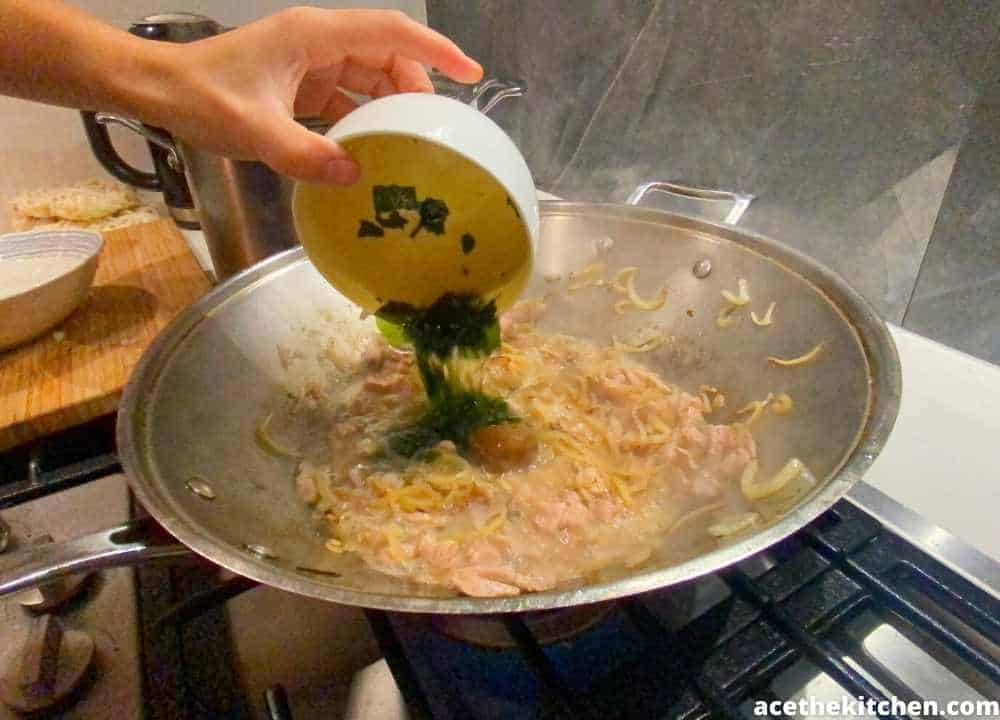 5. Udon
Cooking udon from frozen is easy and fast. You can go direct from freezer to water.
Tip: Don't both with a lid for the pot – once it is boiling the water will cook the udon is under 2 minutes typically. Fast and easy!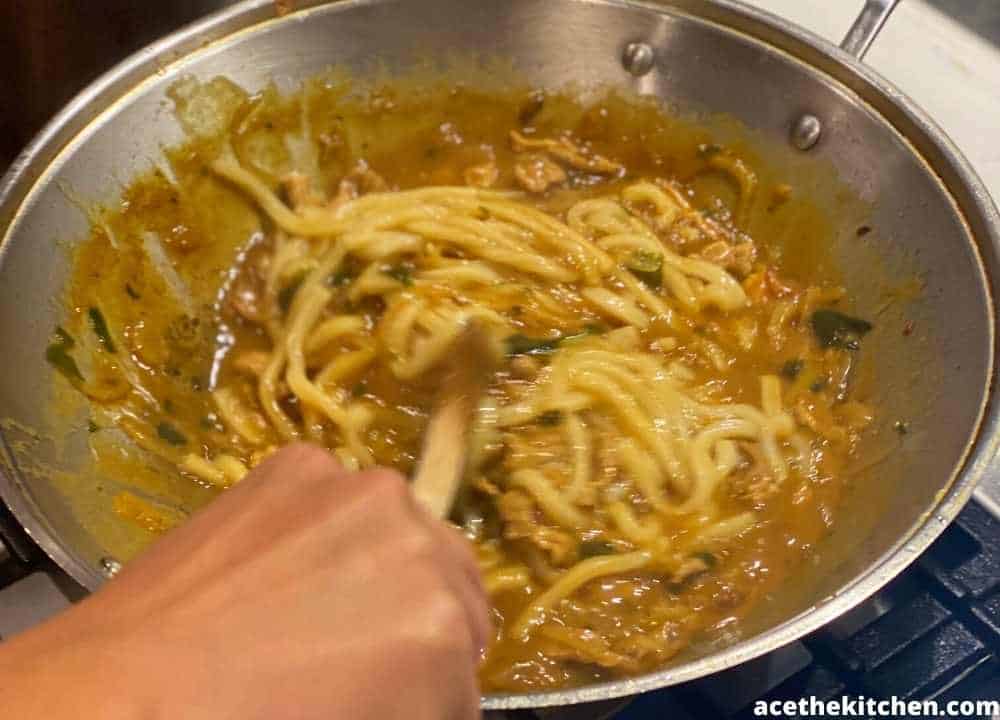 Serving Ideas
Alright guys hear me out. This is an INCREDIBLY delicious recipe. But it is essentially a soup. So serving? A bowl with chopsticks. And a spoon for the left over soup.
You can pick a fancy bowl? Who care. Get this bad boy down on the table as soon as possible and ready to eat. Get involved in the steamy goodness ASAP.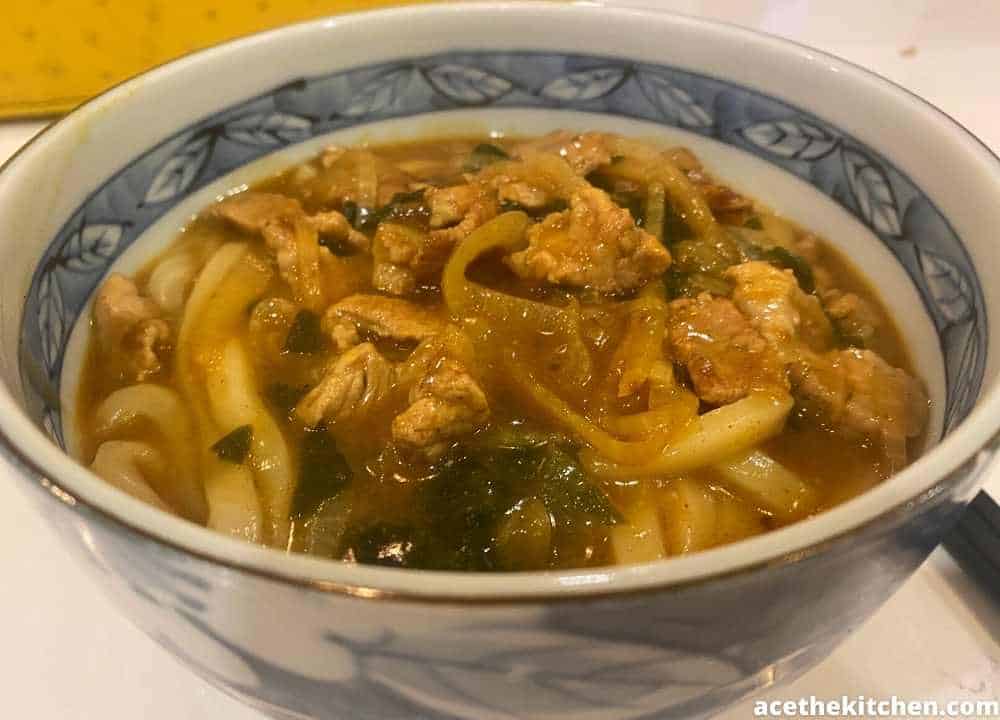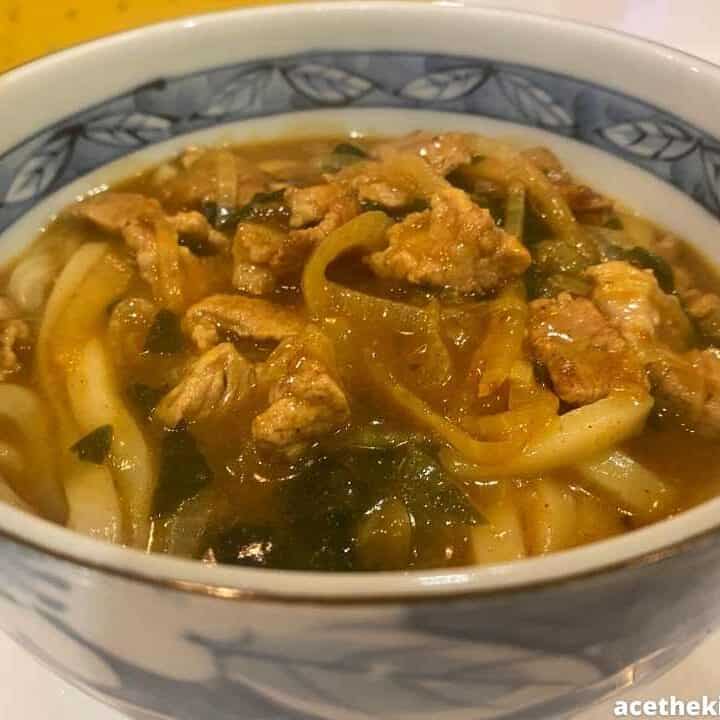 Easy Japanese Curry Udon Recipe - Pork
Making a Japanese Curry Udon for two is a fast and easy flavor SMASH. Golden curry blocks and a few key ingredients given professional tastes at home.
Ingredients
Pork (300 grams)
Golden Curry Dashi (Hot!)
Dashi seasoning 1 tsp
Extra curry powder 1 tsp(option)
Frozen Udon Noodles (1.5 packets per hungry person)
1 large brown onion
Chili powder 1tsp (optional)
Instructions
Slice the onion into thin strips
Slice the pork into thin strips
Take the Wakame (dried seaweed) and hydrate in a bowl of boiling water
Use cooking oil and brown the onion in a Wok or large pan
Brown the pork in other side of the pan once the onion is done
Add the Wakame with the water it has been soaking in plus more water to make "sufficient soup" (a guessing game, I start with 2 cups including that inside the wakame)
Add the curry roux (the Golden curry block)
The Roux will thicken the soup over time so add more water as needed
Add Dashi if so inclined
Add more curry powder and chili powder to taste
Cook the udon in boiling water for 2 minutes
Take cooked Udon and add directly to the soup sauce
Serve in a bowl, and enjyo!
Notes
Use pork scotch fillet for lean goodness that still fries well
Dashi powder can have MSG so make your own choice
Go fast and break stuff, the water will depend on on the day and if it ends up too watery just reduce it
Recommended Products
As an Amazon Associate and member of other affiliate programs, I earn from qualifying purchases.
Nutrition Information:
Yield:

2
Serving Size:

1
Amount Per Serving:
Calories:

348
Total Fat:

14g
Saturated Fat:

3g
Trans Fat:

0g
Unsaturated Fat:

9g
Cholesterol:

77mg
Sodium:

658mg
Carbohydrates:

22g
Fiber:

3g
Sugar:

5g
Protein:

34g