Easy Chinese Lamb Skewer Recipe [Charcoal BBQ]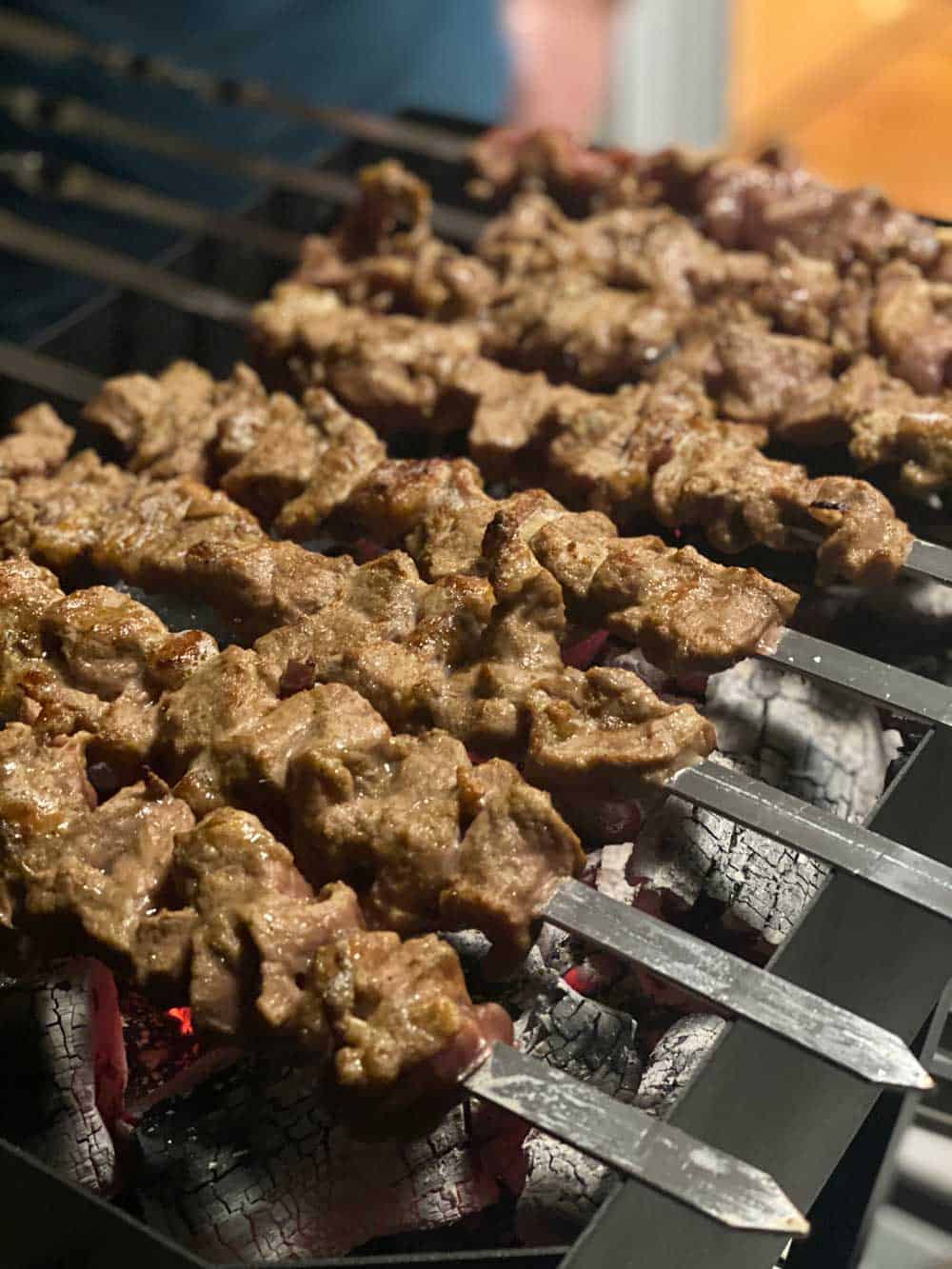 Authentic Chinese street vendor food needs a hand me down recipe from a family of street vendors. Sounds far fetched? Well I literally have that recipe.
EVERYBODY loves Chinese lamb skewers, and a extended family member sent me this premium authentic straight from the street vendor in China recipe (via WeChat of course).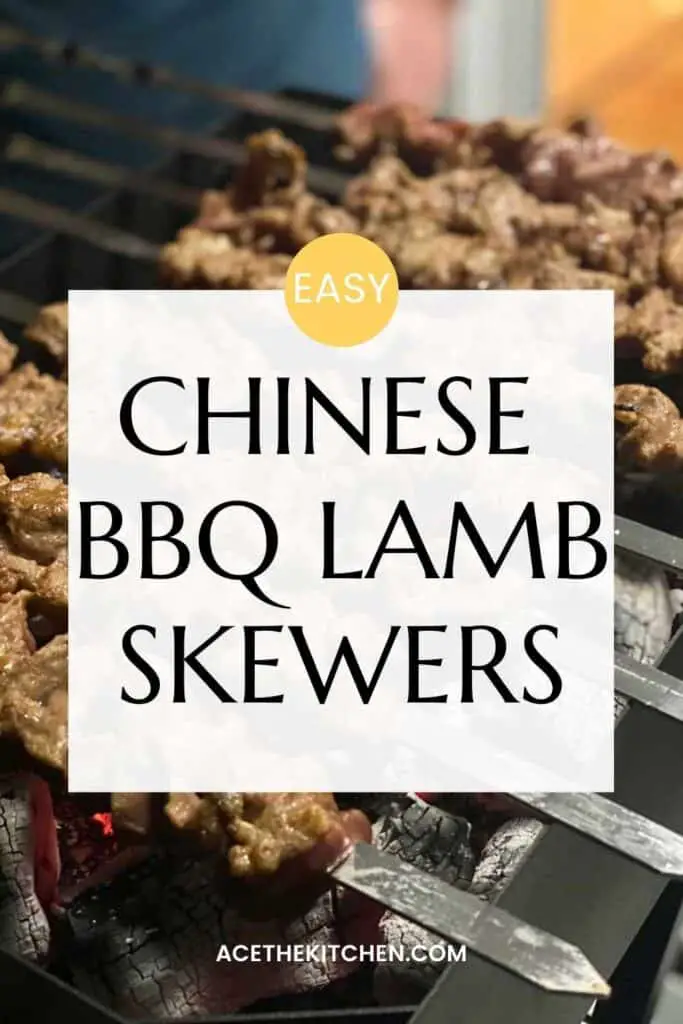 You DON'T need anything crazy. Just quality lamb, cumin, some skewers and a charcoal flame. No insane equipment – but a little leg work required to get going.
This recipe will blow your socks off and remind you of the street food of Xinjiang – or make you understand how your local Chinese BBQ skewer shop gets that amazing flavor (hint: it is cumin + flames)
Before you start
Chinese bbq lamb skewers are a delicious way to entertain. With a little leg work you can feed 12 people fast and easily.
Like any kind of food, preparation is key! This post will give you some advice about what to consider when cooking your lamb skewer and using charcoal.
You will need some metal skewers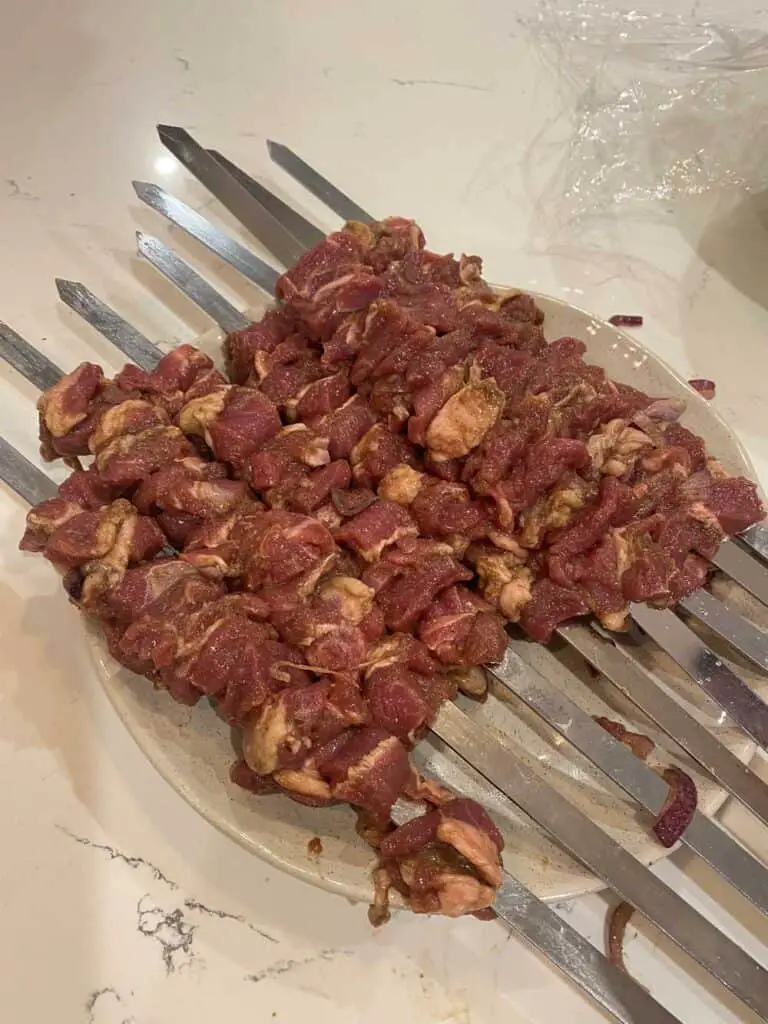 Metal kebab style skewers are a non-negotiable when cooking Chinese lamb skewers. Wooden sticks will catch fire, and the intense heat of the charcoal tends to burn wooden skewers EVEN WHEN they are presoaked in water.
This is the reason I tend to avoid wooden handled skewers as well.
Personally I prefer a sturdier reusable skewer – you can find these at many Mediterranean and Middle East grocery stores, as well as on Amazon.
Tips for cooking lamb skewers on a charcoal BBQ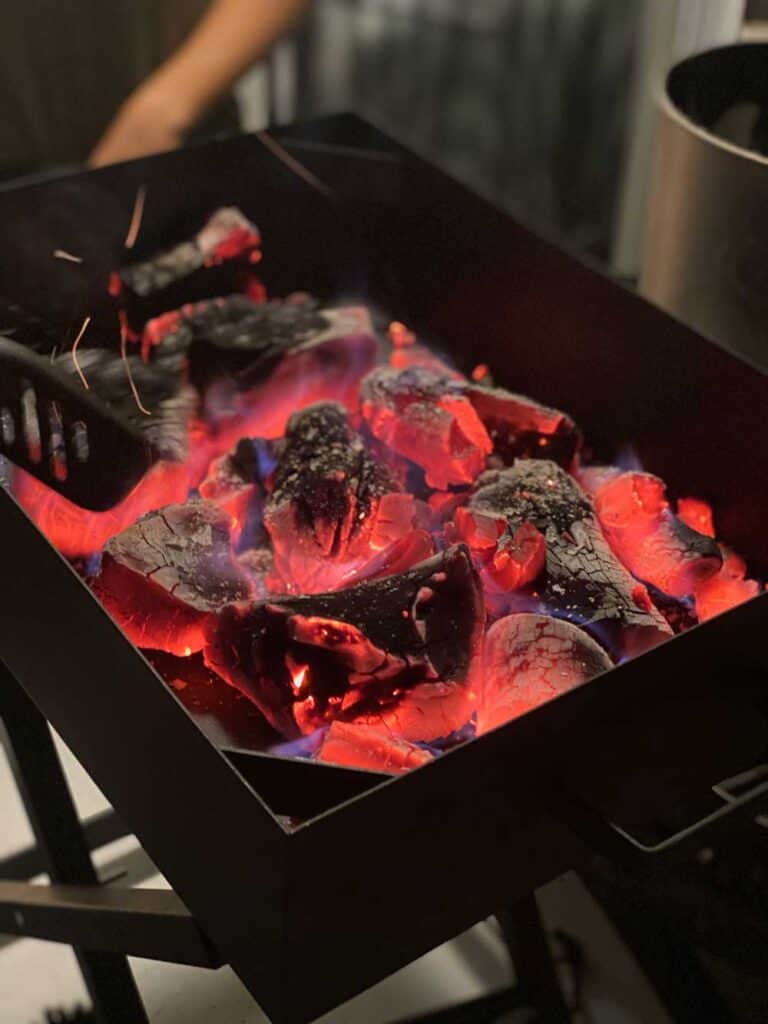 *When cooking lamb skewers, consider using a food-safe thermometer to ensure it is cooked through.
*A hot fire will yield better results than a cooler one. A hotter charcoal grill means you can get the job done quicker and with more control over your finished product.
*While tempting, don't use lighter fluid or other accelerants on your coals! This not only creates an unpleasant taste and can be a touch toxic (doh)
The basic steps to light a charcoal BBQ using a chimney are
The easiest way to light charcoal for a BBQ without chemicals is to use a simple chimney device. These metal containers are essentially a lovely oxygen rich FIRE JUG that will get you on the BBQ track in no time.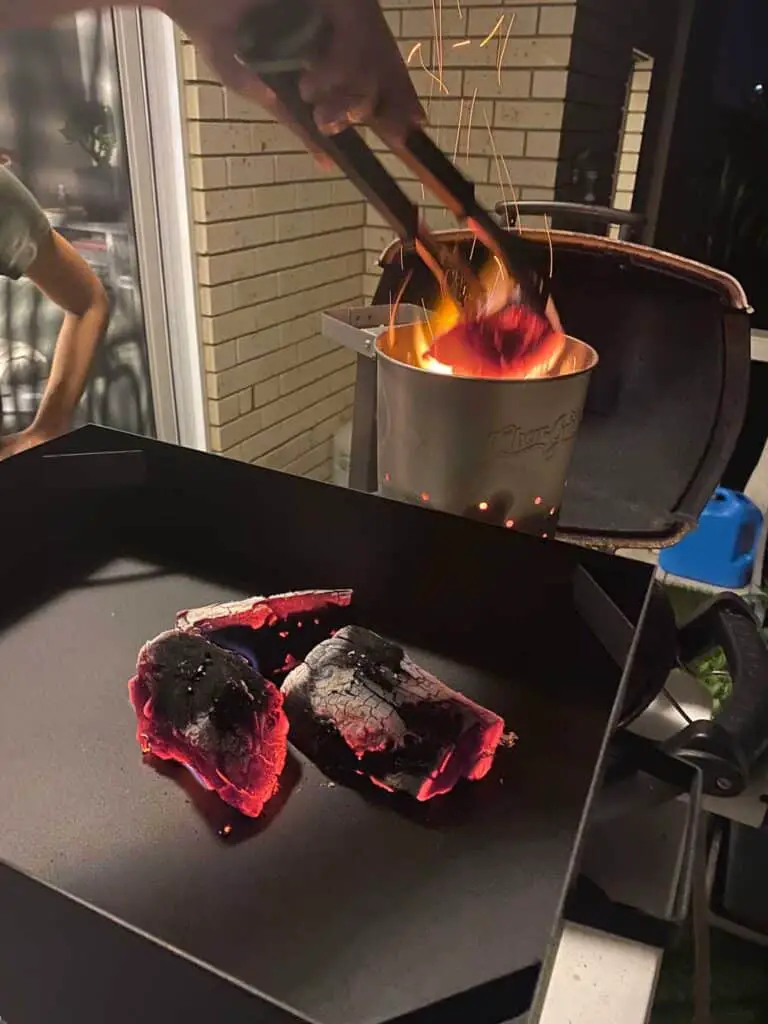 If you have not used one before, take things slow.
Fill the chimney with charcoal briquets or pre charred wood. The amount will depend on how much of a fire you want to have (it will usually be based on cooking time). For BBQ you only need about a third of standard sized chimney.
Workers at Chinese BBQ restaurants typically use paper and other readily available materials to start the fire. You can follow their lead by adding a few sheets of newsprint, following directions on your chimney to light it.
As the newspaper burns in the chamber below, the flames light up from the top of your charcoal too – bringing that smoky flavor that is such an important part of great tasting BBQ
Roughly 10 minutes after starting your coals, a glow will start to appear and the flames will be at the top of the pile. Pour the glowing coals out into the BBQ tray without carefully.
Then spread them out as evenly as possible before you return with skewers for all your hungry guests!
Where does the flavor come from?
With such a simple recipe people sometimes wonder where does the strong and distinctively mouth watering chinese lamb skewer flavor actually come from? Well it is 50% from the flame searing the fat on the lamb, and about 50% cumin.
Good old cumin does HEAPS of the heavy lifting for this street food classic.
What is cumin? Cumin is a spice which is the dried, ground seed of a plant that is part of the parsley family. It has a distinctive earthy and nutty flavor with slightly peppery notes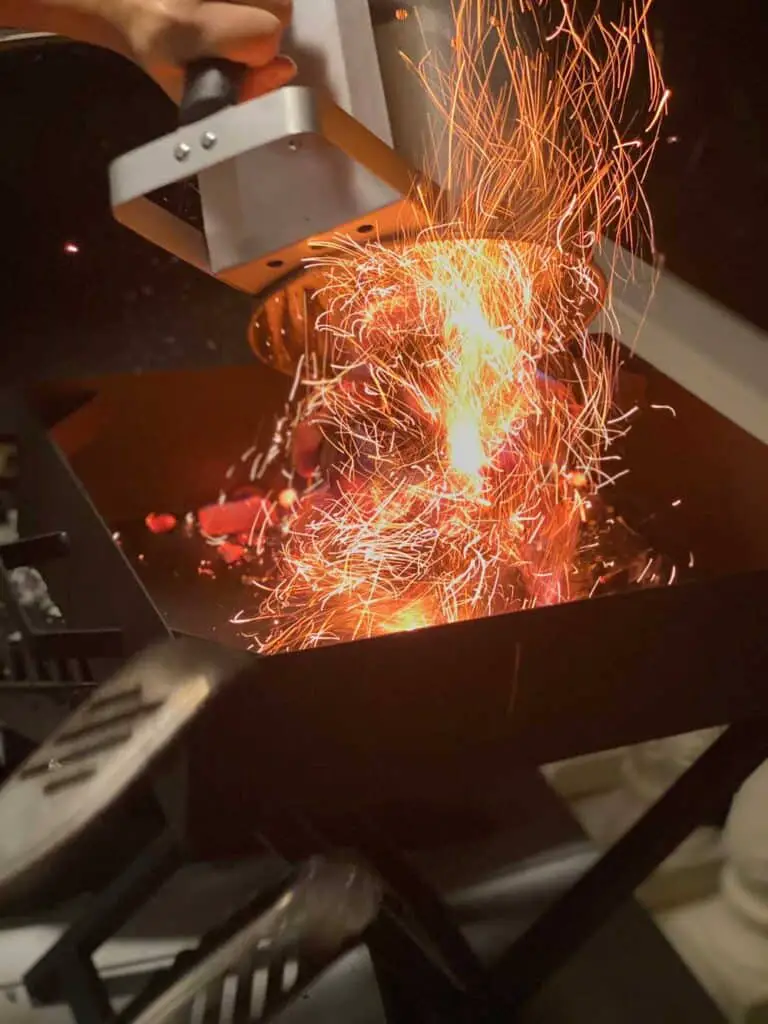 Don't forget to rotate your skewers a few times while cooking
When it comes time to cook, make sure there are plenty of coals burning brightly so that every lamb skewer gets its fair share of heat – turning those luscious pieces of meat into something better than even the most seasoned street vendor could ever hope for!
Enjoy! Lamb skewers are best served fresh off the coal when they're still sizzling hot"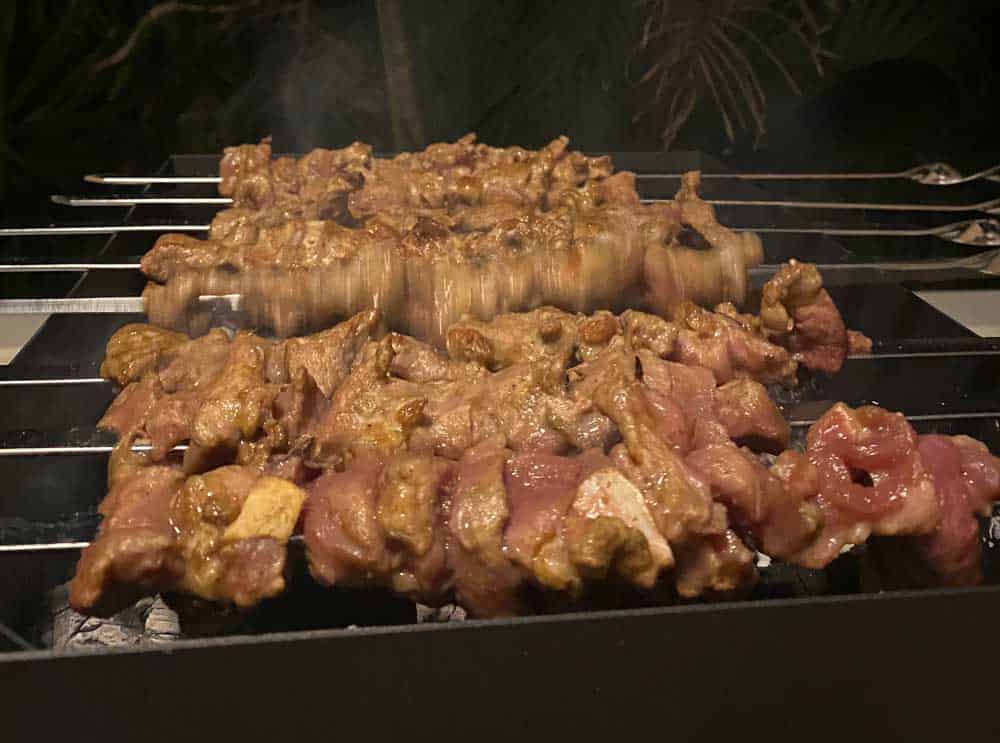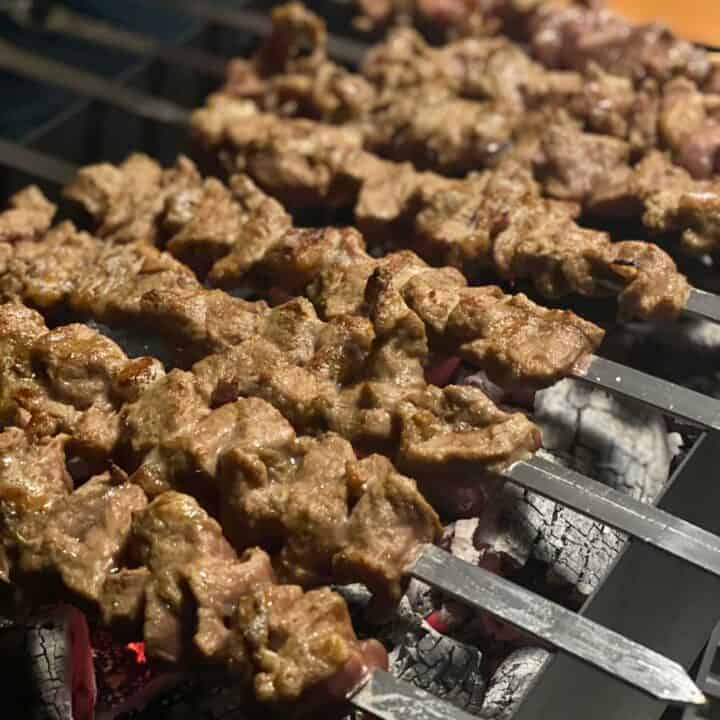 Easy Chinese Lamb Skewer Recipes
Additional Time:
1 hour
5 minutes
Total Time:
1 hour
25 minutes
EVERYBODY loves Chinese BBQ lamb skewers, and a extended family member sent me this premium authentic straight from the street vendor in China recipe (via WeChat of course).
Ingredients
2 kilograms of lamb
1 red onion
ginger to taste (30 grams)
15 grams salt
5 grams white pepper
15 grams cumin powder
3 large chicken eggs
chili powder if desired
Instructions
GET THE LAMB READY - cut the lamb into chunks of around 1 inch x 1 inch. Aim for a square as possible.
IF THERE IS FAT - sometimes the lamb cut can be very lean, otherwise fatty. If it is fatty - Trim any excess fat off the lamb, but do not discard. More on this below
DICE THE ONION - relatively small pieces, some stick to the lamb as part of the next steps
MIX THE DRY INGREDIENTS - combine the dry ingredients and diced onion in a large bowl, with enough space for the chunks of lamb
ADD THE LAMB - toss to coat the dry ingredients
LEAVE FOR 5 MINUTES - allow the meat to rest in the dry rub for 5 minutes
EGG TIME - add the three eggs into the mix and churn using your hands to evenly distribute throughtout the spiced lamb
LEAVE FOR 60 MINUTES
SKEWER TIME - place the meat onto the skewers. Measure how wide your charcoal pit is (see above) - usually 5 or 6 pieces MAX for an at home charcoal BBQ box.
CHARCOAL BBQ till brown and crisp, (internal temperature over 65 degrees celsius for us meat thermometer enthusaists)
Notes
If the Lamb is LEAN, then add one off cut of fat in between every 2 or 3 cubes of meat on the skewer

If the lamb is FATTY - discard the excess fat off cuts instead as you will get plently of char, moistness and fatty goodness from the regular cut
Light the charcoal using a flume (see above)
As discussed above I prefer Kebab/Kebob skewers from my local aptly named store "Middle East Grocer" (They are the same as the ones linked on Amazon below).
Recommended Products
As an Amazon Associate and member of other affiliate programs, I earn from qualifying purchases.
Nutrition Information:
Yield:

12
Serving Size:

1
Amount Per Serving:
Calories:

518
Total Fat:

36g
Saturated Fat:

15g
Trans Fat:

0g
Unsaturated Fat:

18g
Cholesterol:

208mg
Sodium:

631mg
Carbohydrates:

2g
Fiber:

0g
Sugar:

0g
Protein:

43g