Easy Sashimi Recipe – Kingfish Marinated in Ponzu Dressing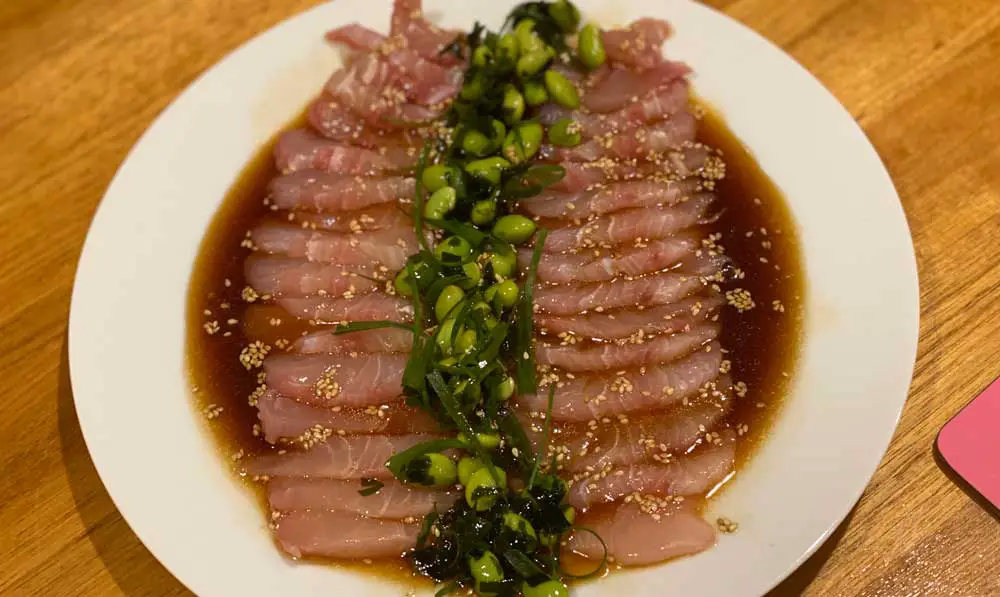 Kingfish sashimi with ponzu dressing is the perfect dish to whip up for a party or get-together. Not only does it look beautiful on a plate, but it's also incredibly easy to make and can be made ahead of time!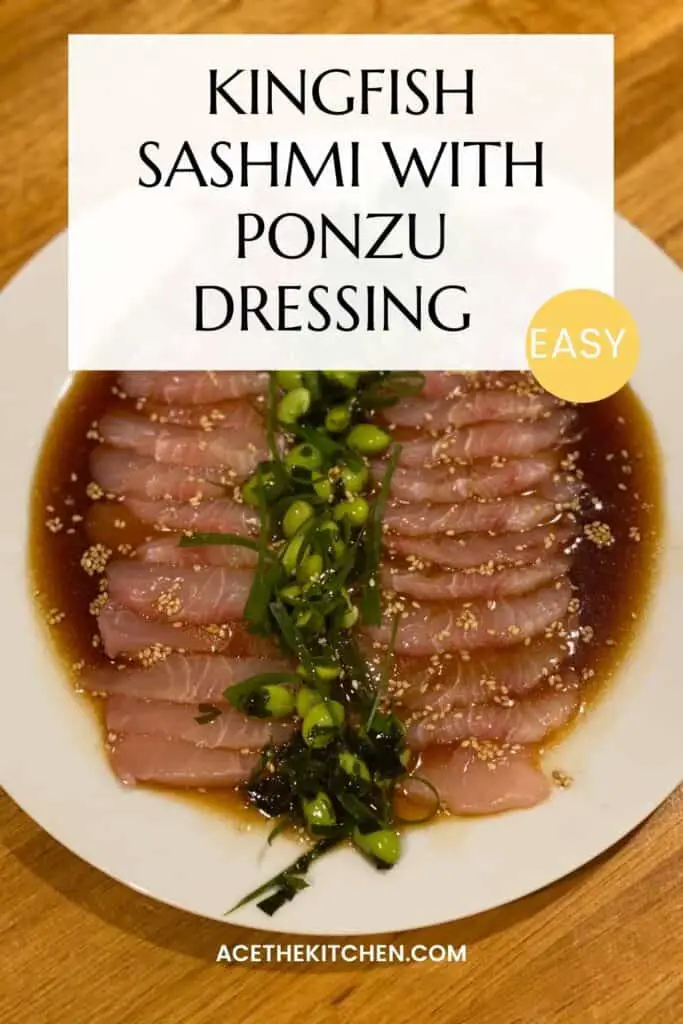 We whipped this recipe up for a party of eight recently and it went down as the favorite starter and people chased the recipe! Always a good sign.
This particular recipe uses ponzu dressing as the sauce – which is an easy thing to whip up from readily available ingredients. Get ready to impress your guests with this delicious appetizer!
Not everyone loves Kingfish sashimi
But almost everyone will join the sushi fan club after you serve up this dish!
Not everyone loves sashimi – but this serving option provides a comfortable and easy gateway to the world of fish.
The soft dressing is a little sweet but has depth of flavor that will impress.
The dish impresses and looks like you put in WAY more effort than is actually required. An easy way to impress friends and guests! (Check out our Golden Curry Udon recipe for another Japanese meal that will IMPRESS guests with little effort)
Sashimi Grade Kingfish is Easy to Find
I remember when visiting a local fish market was a little intimidating. But they are friendly and keen to sling fish! These artisans are seafood pros and either the fish workers or retail workers can point you in the direction of sashimi grade fish.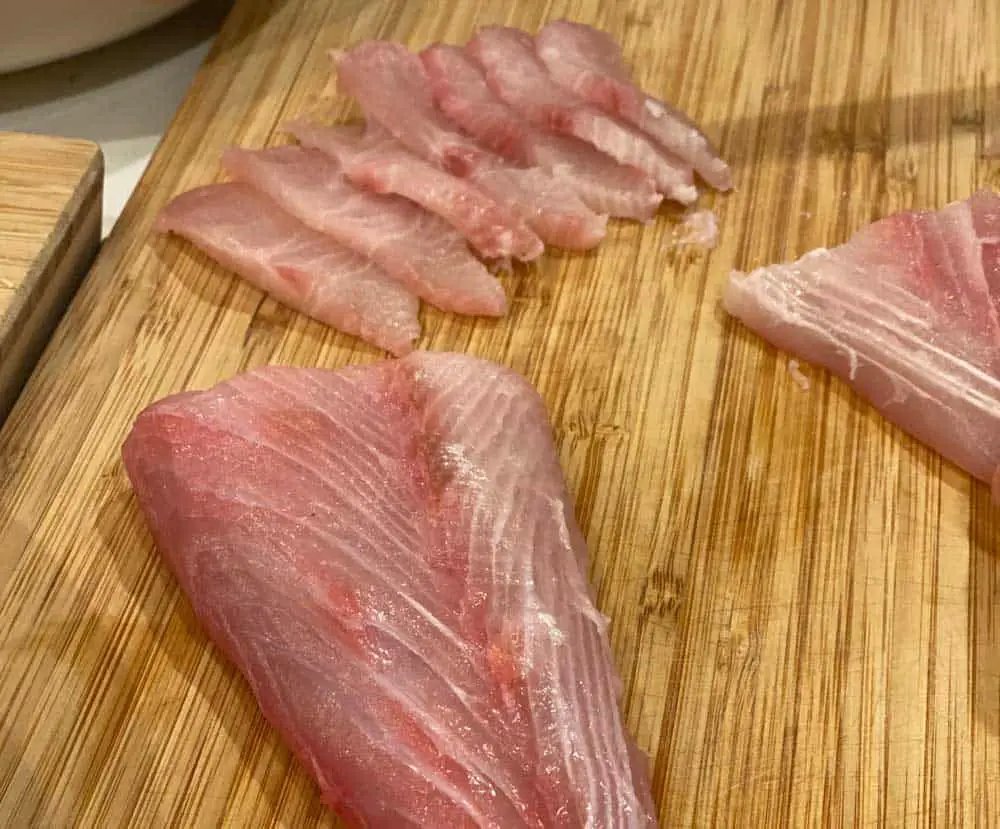 You may have to go to a fish monger or specialist fish shop – but Kingfish that is sashimi grade is readily available.
Only buy sashimi grade fish for sushi. Why? Because it is the tastiest (and safest) option. Sushi grade and Sashimi grade essentially mean the same thing.
It just means that the fish has been treated in a way to make eating it raw safest. Aka – the fish is frozen at the correct time. There is no official grade or system in most countries, it is a subjective choice.
Picking a Kingfish fillet for sushi
To select the best fish fillet for sashimi Ponzu dressing for kingfish sashimi
Only buy a fillet that looks fresh
Look at the grain of the kingfish, if it appears tough then avoid
Thick areas of white or red should be avoided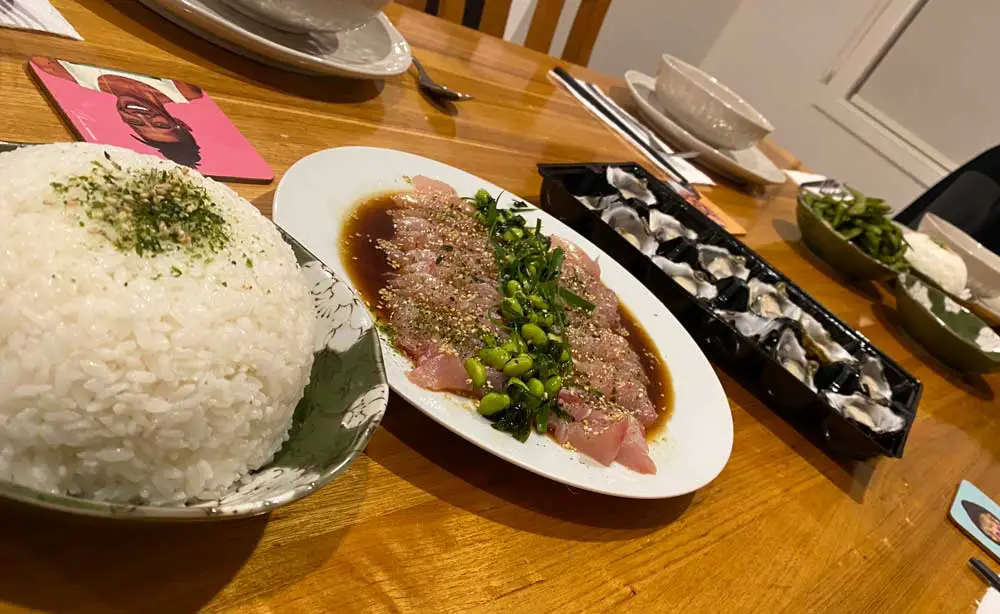 You will need a sharp knife
If you want to slice sashimi like a pro, you are going to need a keen blade. No serrated knives, please! You will want a very sharp blade with an angled edge that is about 20cm long.
Using a smaller knife is possible, but a bit of a nightmare.
Don't forget to try the Kingfish
The dressing if fantastic, but don't forget to try the Kingfish sashimi yourself before. The flavor and texture of quality sashimi grade Kingfish are ideal. Try a slice or two plain or with soy sauce to really appreciate what you buy.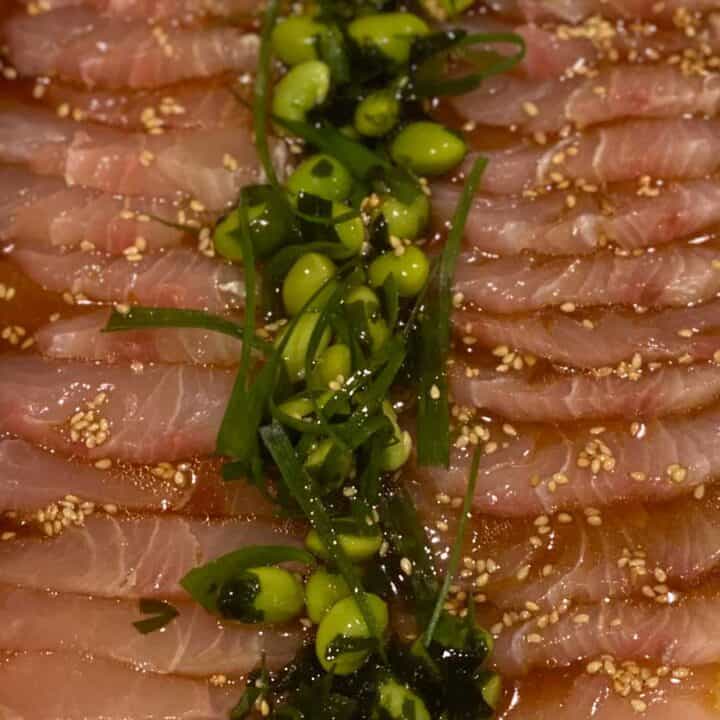 Sashimi Kingfish Marinated in Ponzu Dressing
Additional Time:
5 minutes
Perfect as a starter or snack for a shared meal, this sashimi dish will impress both seasoned sushi lovers and those new to the concept kingfish.
Ingredients
2 tbsp dried seaweed
250g edamame pods
300-400 grams sashimi grade Kingfish
1 tbsp furikake seasoning
For the dressing
1/2 tsp dashi powder
4 tbsp soy sauce
2 tbsp lemon juice
1 tbsp rice vinegar
2 tsp mirin
1 tsp fine white sugar
1 tbsp sesame oil
Instructions
REHYDRATE SEAWEED
The dried seaweed (wakeme) in hot water. Place slightly less than boiling water into a bowl and soak for 5-10 minutes. Drain, rinse with cold water, and dry using absorbent paper towel. You want fine strips of seaweed so shred or slice accordingly.
BLANCH THE EDAMAME in boiling water.
From frozen (the easiest to find at any asian grocery store) this only takes 2 minutes. A few extra minutes if fresh. Remove from heat and wash in cold water. Remove the edamame beans from the pods now. This should be easy to do if
THE DRESSING is simple.
Dissolve the hon dashi in a 3 tbsp of hot water and then combine all ingredients. NOTE: Add the sweet elements last (Mirin and the fine white sugar). Slowly increase until you are happy with the taste. It is fine to use less of either and have reduced sweetness in the dressing.
SLICING THE KINGFISH sashmi!
Temperature does not matter a great deal and you can cut cold or warm. The secret? A really REALLY sharp knife. Bust our your finest blade and aim to cut 5mm of thickness. Slightly thicker is no issue - but a goal of 5mm.
TO SERVE
Mix the edamame and the dressing in a bowl. Kingfish looks brilliant when splayed out flat with minor overlaps. You will need a bowl or plate with edges as there will be quite a bit of dressing. Add the edamame to the plate then pour the dressing over just before serving, and garnish with furikake seasoning for extra style points.

Notes
This dish really does have quite a bit of dressing, and the flavors will overpower some of that amazing sashimi grade kingfish. This trade off is worth it. It is a very friendly dish to those with little experience eating sashmi. The kingfish itself is also a great introductory fish for friends or family that are yet to love eating raw fish.
Don't dress the fish more than 20 minutes before it hits the table.
The furikake seasoning does not add much flavor wise - but it does add a touch of fancy
I buy sashmi grade Kingfish from my local fish monger. Unsure if it is sushi grade? Just ask at the store. In almost all cases it will be clearly marked (and sell for a bit more $). It is typically very budget friendly to buy bulk sashmi and prepare it yourself compared with eating out at higher grade sushi restuarants.
Recommended Products
As an Amazon Associate and member of other affiliate programs, I earn from qualifying purchases.
Nutrition Information:
Yield:

5
Serving Size:

1
Amount Per Serving:
Calories:

349
Total Fat:

2g
Saturated Fat:

2g
Trans Fat:

1g
Unsaturated Fat:

2g
Cholesterol:

2mg
Sodium:

54mg
Carbohydrates:

22g
Fiber:

3g
Sugar:

3g
Protein:

45g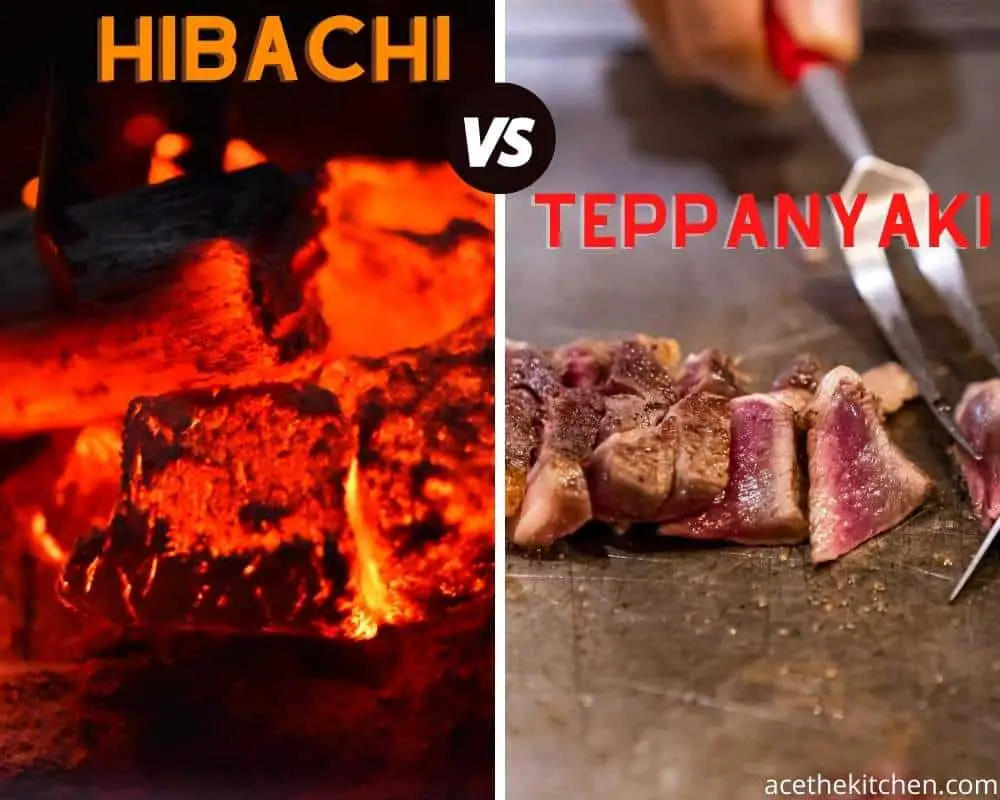 Did you know that Teppanyaki is different than Hibachi? These two types of BBQ are definitely not the same. Find out the differences in our Food School post.