Difference Between Teppanyaki Vs Hibachi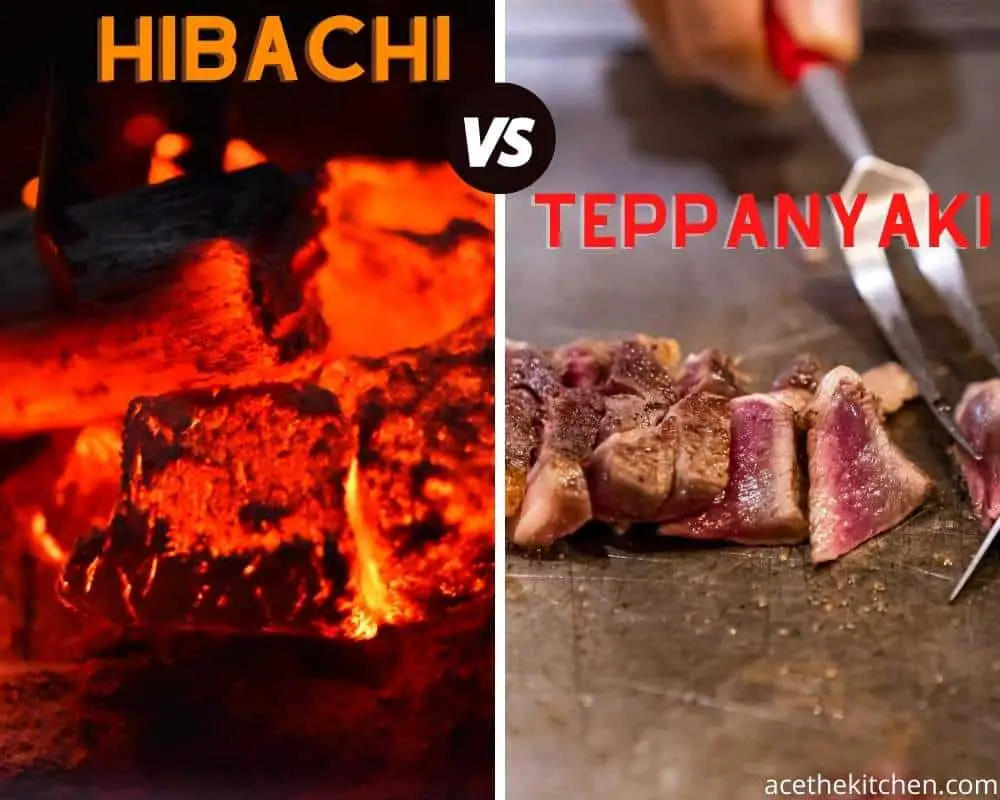 ​Teppanyaki and hibachi are the two terms that are often used synonymously in western societies. But do you know that there is a fairly big difference between these Teppanyaki vs Hibachi?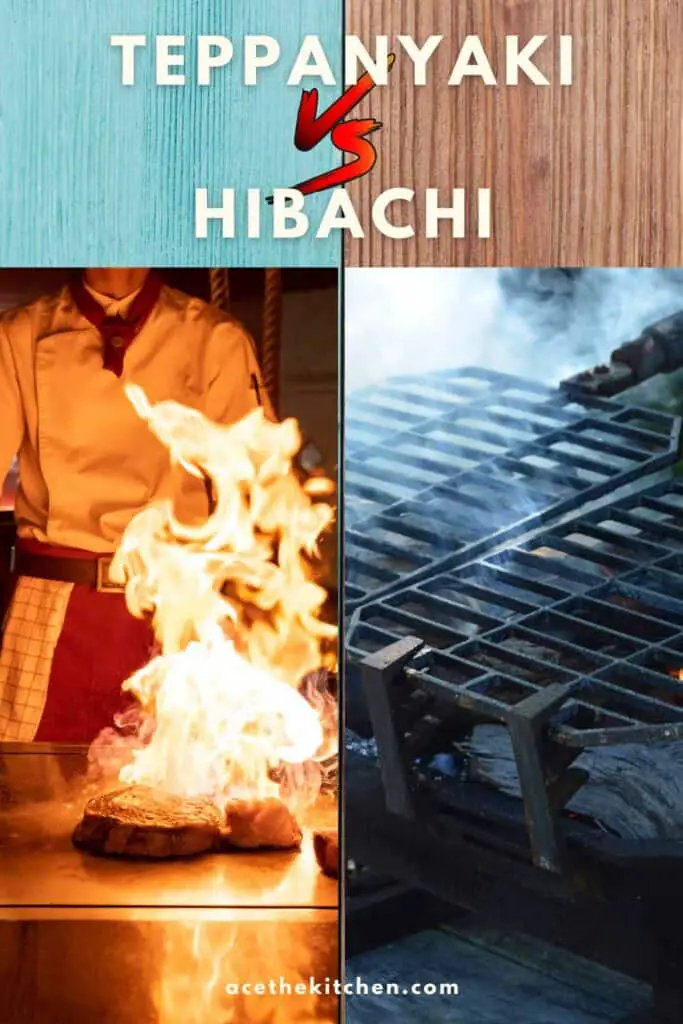 My wife's family ran a very busy and large teppanyaki restaurant for almost a decade. People LOVE teppanyaki but would often get confused because they thought they were experiencing hibachi – a very different style of cooking.
These Japanese styles of cooking differ from one another as teppanyaki involves using an iron griddle/bbq while hibachi refers to the heated clay bowl with a wire rack to cook the food.
Moreover, the style of cooking, techniques and utensils also vary greatly. ​This article will be having a look at both teppanyaki and hibachi in detail along with describing their uses as well as differences between them so have a look through this article for more information.
See more videos on our AceTheKitchen YouTube channel.
What exactly Is Teppanyaki?
First introduced by Japanese chefs back in the last century, teppanyaki refers to a style of food that is prepared on a large iron flat BBQ plate.
Textual Definition: teppan (iron plate) yaki (grilled) The whole idea behind this cooking style is believed to have been derived from the traditional japanese method of preparing food.
The chefs use an iron pan and place it on top of an oak charcoal grill or gas stove. ​Thus, it was named as teppanyaki. This type of BBQ cooking involves in using techniques such as flipping, tossing and stirring while preparing any dish.
Teppanyaki restaurants are found in all parts of the world now but the popularity started booming during the 1950's in Tokyo when many Japanese chefs were sent to the US to train others in Japanese cuisine.
Moreover, many of them opened teppanyaki restaurants and these became extremely popular among both the Japanese expats and local Americans alike.
Teppanyaki became particularly famous because of the tricks and cooking showmanship.
What do you call a Japanese restaurant where they cokthe foo din wont of you and do tricks? A Teppanyaki restuarant.
What exactly Is Hibachi?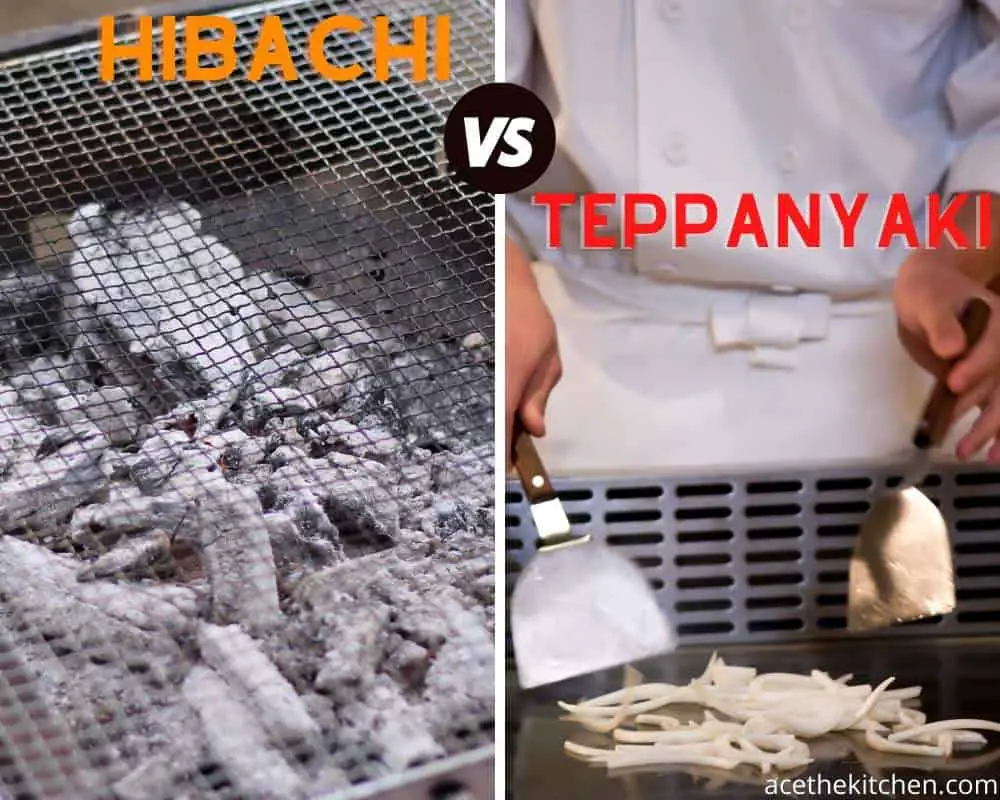 Hibachi or hibatchi refers to a style of cooking that originated as early as 1862.  This style was often practiced by the chefs working at feudal Japan.
It is believed that these methods were derived from hibachis which are traditional Japanese stoves with a clay bowl and a grill above it.
These stoves were usually wood or charcoal based.
In the traditional hibachi cooking technique, it is believed that a fire is used in order to heat the bottom of the bowl with an open flame while you cook meat and vegetables on top of the wire rack placed inside this heated clay bowl. However, in today's world, people use gas stoves to achieve similar results.
As opposed to teppanyaki which involves more flashier techniques such as flipping and tossing food around, Hibatchi style involves simple cooking methods that are mostly failsafe and don't require any fancy showmanship.
The preparation techniques differ greatly because of which many do not know how they are different from each other sometimes. ​Even if you are aware of these differences, it is important to know the basic differences between teppanyaki and hibachi so that such confusion can be avoided.
Difference Between Teppanyaki And Hibachi Style Of Japanese Cooking: Technique
Teppanyaki style of cooking involves more flashier techniques like tossing food from one side to another or even flips.  This method requires a high level of concentration and needs expert chefs in order to get optimum results.
On the other hand, hibachi simply makes use of simple methods which include cooking food on an open fire or gas stove inside a heated clay bowl as well as wire rack placed above it. These simple techniques are easy for any amateur chef to follow along.
Can You Teppanyaki at Home?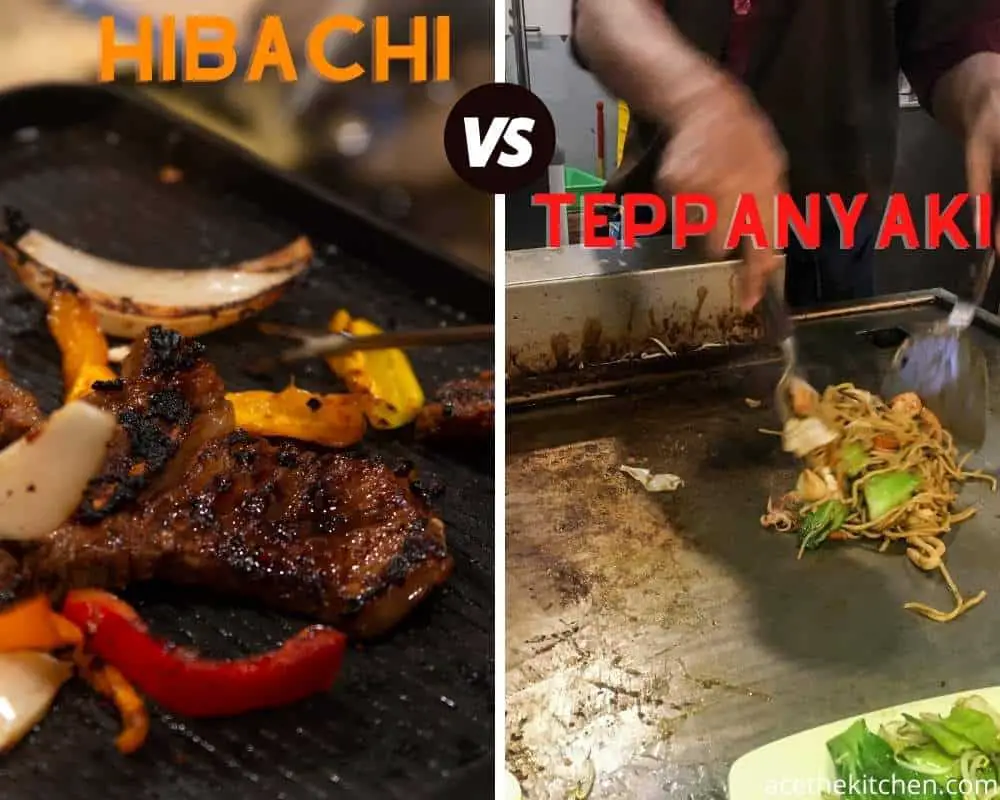 It is tricky to get a full teppanyaki experience at home. This is because cooking Teppanyaki style is MUCH easier on a properly heated and large iron BBQ, like a restaurant Teppan grill. These are remarkably expensive and bulky (believe me, we maintained six + grills for a decade at the restaurant).
Home Teppanyaki plates leave much to be desired, particularly when made cheaply. You need the weight to heat evenly, which simply isn't possible without high quality steel and even heat distribution.
Can You Hibachi at Home
Hibachi, however, is quite doable at home. The principle there is the same as with a smoker or BBQ grill – just use indirect heat! Heat up the bowl underneath (clay pots are great for this) or fire it in another way and cook on top of that.
You can grab a Hibachi style grill (gas or charcoal) without busting the budget from an online store.
I would personally spend a little more money and get an iron or ceramic hibachi rather than the less sturdy aluminium. This is because I want something that will last me for a long time.
Difference Between Teppanyaki Vs Hibachi Ingredients Used: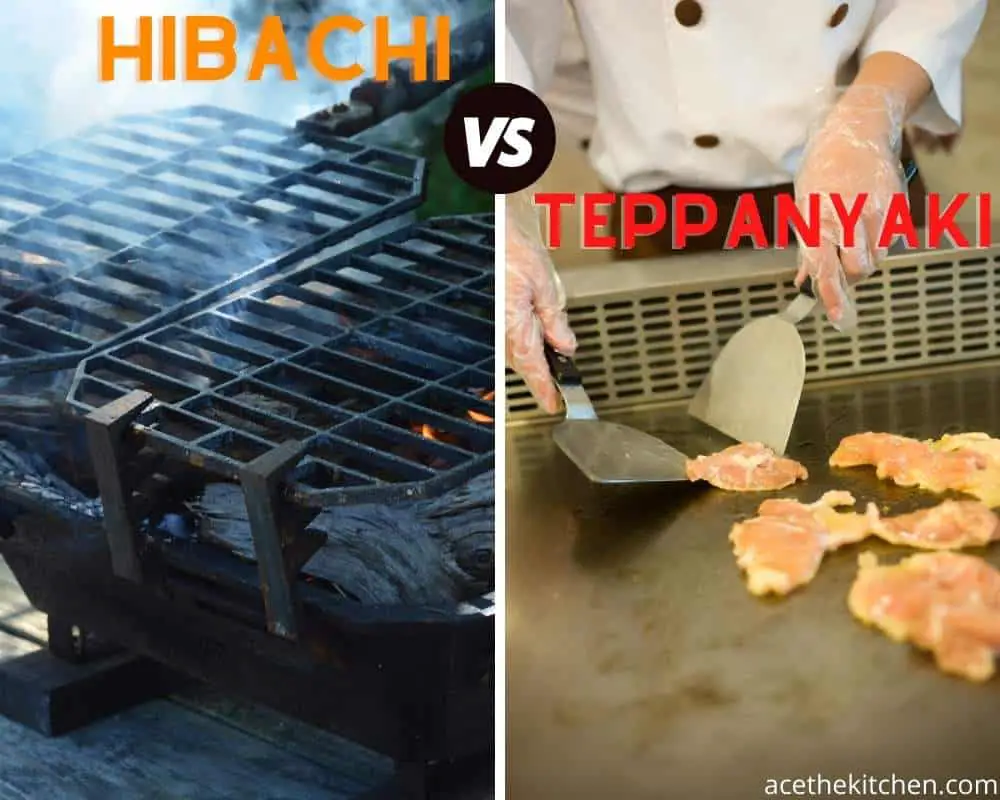 The ingredients used in hibachi or Teppanyaki are simple – both styles do not make use of any fancy or wildly special ingredients. The basic ingredients include oil, cooking utensils, and meat or seafood (or both). Commonly used cooking utensils include spatulas and knives.  
On the other hand, teppanyaki uses flashier techniques like tossing the food around which requires expert chefs to follow along while being cooked on the iron grills. This is because these methods require high levels of concentration and practice in order to get optimum results.
In terms of preparation, the meat and vegetables are prepared in a similar way. Smaller pieces cook better. Cooked cleanly over fierce heat and letting the soil, salt, pepper shine.
Teppanyaki is typically served with a side of rice or fried rice in restaurants – along with sauces to match the type of protein or vegetable. A special beef sauce, seafood sauce, vegetable sauce – as well as chilli sauce options are typical.
How do people become Teppanyaki chefs?
How do people become experts in Teppanyaki cooking?
To start, they need the right skills. These include a high level of concentration and practice in order to get optimum results with such techniques like flipping or tossing the food while on heated grills. It is more difficult than it looks!
Teppanyaki chefs are proficient at using spatulas for different purposes – which includes flinging meat into flames where needed, lifting vegetables from heat, and generally working with ingredients without too much difficulty. Kitchen knives as well as other sharp utensils are also used to cut food before serving.
One these basic skills are mastered it is typical for a period of training at an established Teppanyaki restaurant. Think of it like a traineeship for someone who already has the basics – they need to learn the theatre and practicalities of cooking and entertaining in this style.
Teppanyaki chefs in many restaurants also need to learn how to make sushi rolls, cook rice dishes, grill meat or seafood, create desserts like ice cream etc. Each of these skills takes time to fully master.
What is the difference between teppanyaki and teriyaki?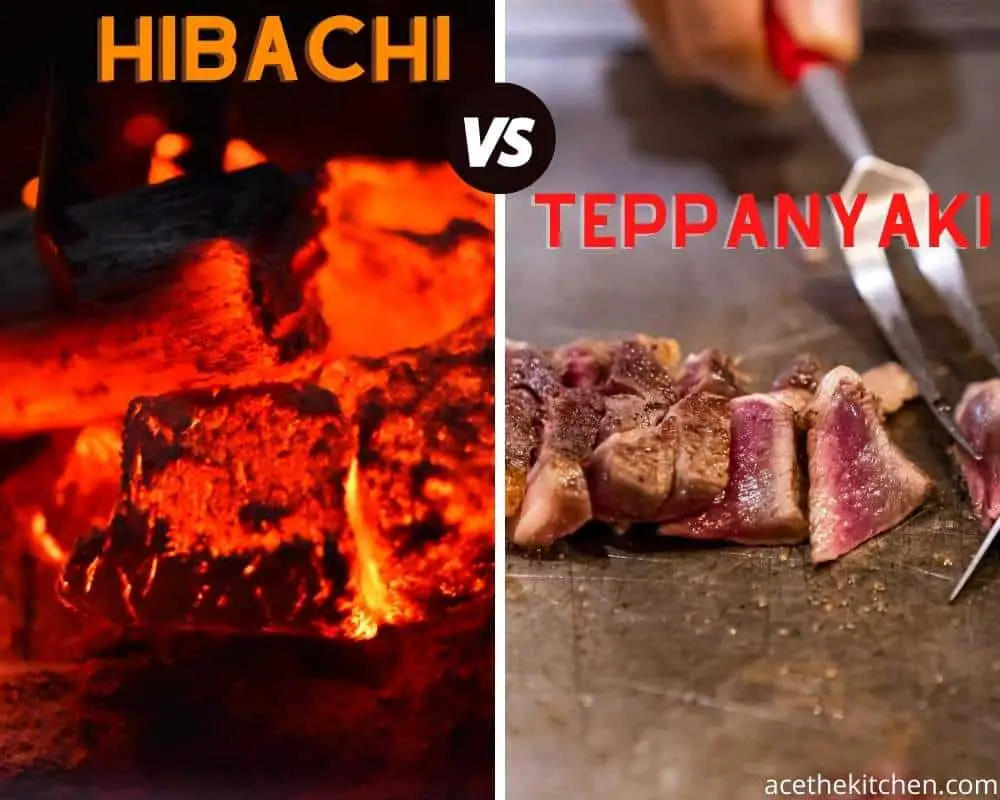 If you are a Japanese food lover like me, then there's a good chance that you have experienced both teppanyaki and teriyaki dishes.
What is the difference between these two similar dishes? Both use meat or seafood as the main ingredients to cook right?
Well the difference is that Teppanyaki is the style of BBQ cooking, whereas teriyaki is a description of a sweet sauce applied to meat and vegetables.
E.g. You may have teriyaki sauce AT a teppanyaki restaurant.
Do they eat Teppanyaki in Japan?
Teppanyaki is really a type of cooking in Japan which is done at a table-top grill. It is just not really very flashy like the way it is done in the United States. The restaurants in Japan just have a grill and don't have tables to sit around them for a show.
When you order at this restaurant, they bring the food to your table and cook it right there on the grill – but don't expect a show and tricks in Japan. They may even cook the food out back then bring it to the table.
Do they eat Hibachi in Japan?
The traditional cooking style of hibachi remains popular in Japan. Hibachi" has an extensive history in Japan from the Meiji era to present day.
Traditional Hibachi dishes include steak, chicken, shrimp, scallops and vegetables cooked on a grill table-top (teppan). The meats are typically grilled with a sauce applied to it before serving.
A hibachi style grill is easy to maintain in an apartment or home – and are easy to clean and maintain. Many Japanese households have the equipment to cook Hibachi style and do frequently.
How hot is a Hibachi grill vs Teppanyaki grill?
The heat on a hibachi grill is not comparable to the heat on a teppanyaki grill. Hibachi grills typically get up to 450 degrees Fahrenheit (230 degrees C!) in the centre and 250 (100 C) in the outskirts of the grill.
Teppanyaki can get up to 600 degrees Fahrenheit! But really should sit around 425 F (215 C) as this is ideal for fast cooking meat. Or if you are after a Japanese side dish – check out our ponzu dressing for at-home DIY Kingfish Sashimi.
Of course, they're both hot enough to cook food fast and safely.
Want to learn more about Japanese cooking? Start with our incredibly easy Curry Udon at Home recipe and wow any visitors!