How Long Does Lettuce Last in the Fridge (How to Store Lettuce)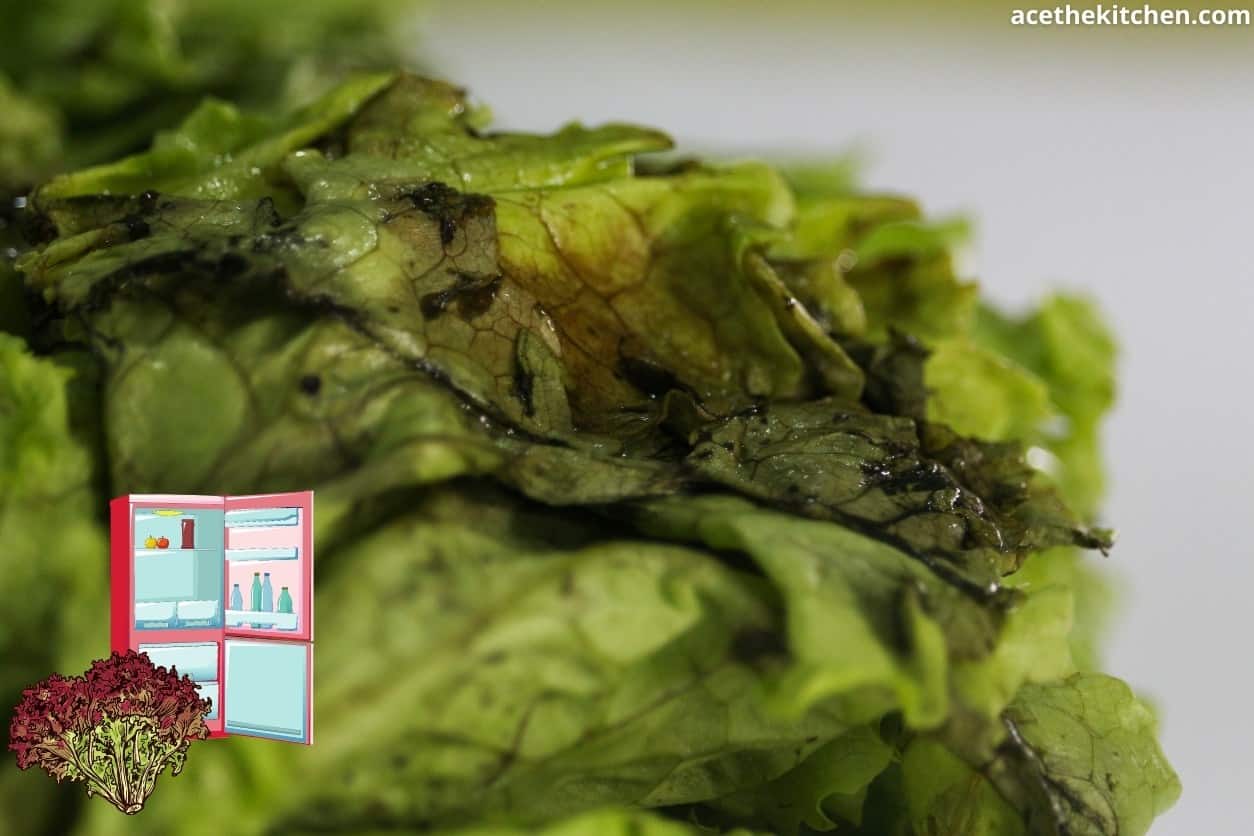 Lettuce is a staple in many households. It's healthy, versatile, and can be used in a variety of dishes.
But how long does lettuce last in the fridge? And what happens if it goes bad? In this blog post, we will answer those questions and more!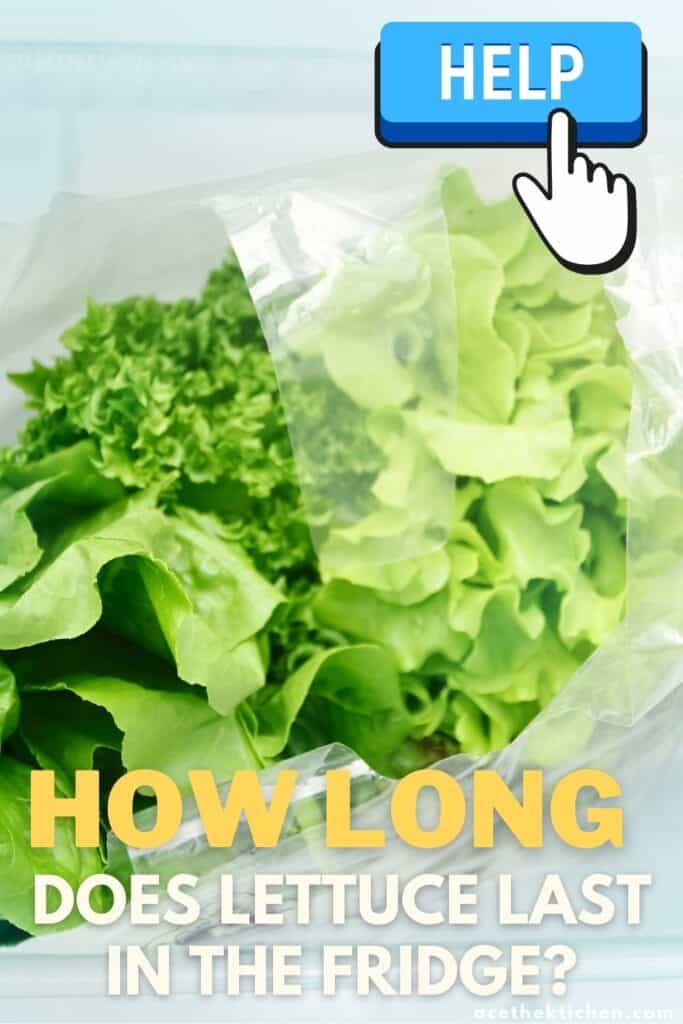 We'll also provide some tips on how to store lettuce so that it lasts as long as possible.
How Long Does Lettuce Last?
Lettuce is a popular leafy green vegetable – but it is perishable! Lettuce typically lasts 3-5 days in the fridge, but it can vary depending on the type of lettuce. Romaine lettuce typically lasts longer than iceberg lettuce.
So you can store and consume lettuce for up to a week – but this also depends on the state of the lettuce when you pick it up at the store. If the lettuce is young and fresh, it will last longer than if it's starting to wilt.
If your lettuce is bruised from the store or the trip home, expect it to go bad faster. The bruising will create openings for bacteria to enter and cause the lettuce to spoil sooner. If you have any doubts about whether or not your lettuce has gone bad, throw it out – it's better to be safe than sorry!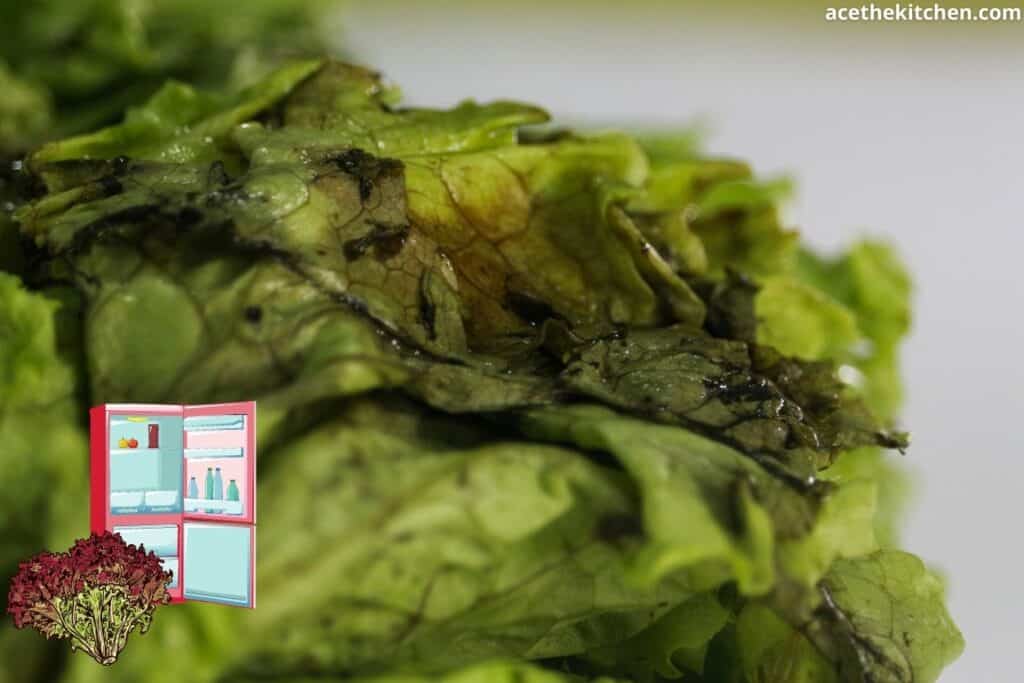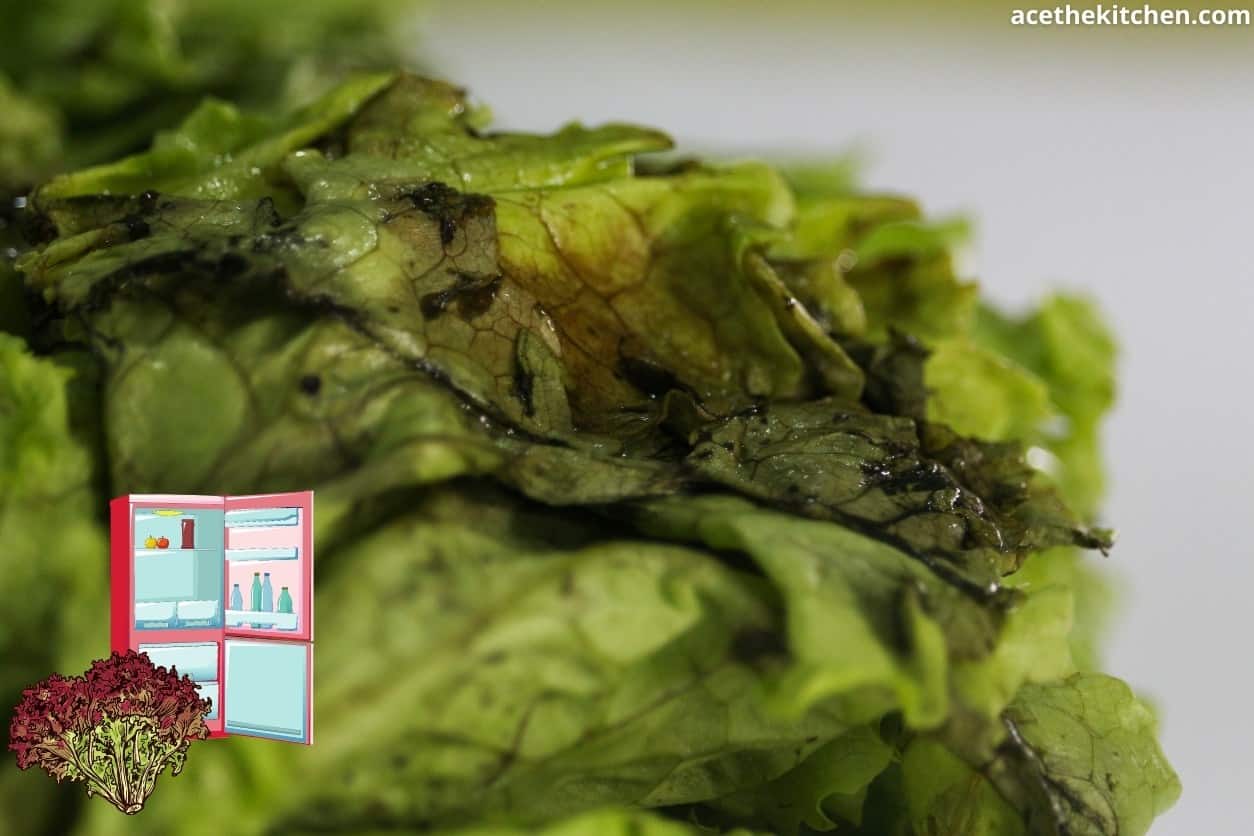 Lettuce Lifespan in Fridge Table
| Lettuce Types | How Long lasts in Fridge |
| --- | --- |
| Iceberg lettuce head (Crisphead) | 1 to 2 weeks |
| Butter lettuce head (cos, oak or romaine) | 7 to 10 days |
| Loose-leaf lettuce (all types) | 3 to 7 days (store dry and airtight) |
| Bag Lettuce (leaves) | 2-3 days once opened |
How Long Does Lettuce Last in the Fridge
How Long Does Lettuce Last in the Fridge
Lettuce will last up to a week in the fridge. However, it's best to use it within 3-5 days to ensure that it is fresh. To extend the life of lettuce, store it in an airtight container in the fridge.
Once your lettuce starts to go bad, the first signs are usually a slimy texture. This is often noticed before any color change. If you catch it early enough, you can still salvage the lettuce by cutting off the bad parts. But if it's too far gone, you'll need to throw it away.
If your lettuce is bruised from the store or the trip home, expect it to go bad faster.
How Long Does Lettuce Last Unrefrigerated
If you don't refrigerate your lettuce, it will only last for one or two days. This is particularly true in warm climates.
The warmer the weather, the faster lettuce will spoil because it speeds up the process of decomposition. In summer, lettuce left out can go bad within a few hours.
The best way to store lettuce is in the fridge in an airtight container. It is not worth the risk – store your lettuce cold.
Only get lettuce that is solid, free of brownish spots or indications of wilting. The quality of lettuce you buy has a big impact on how long it stays fresh in your refrigerator.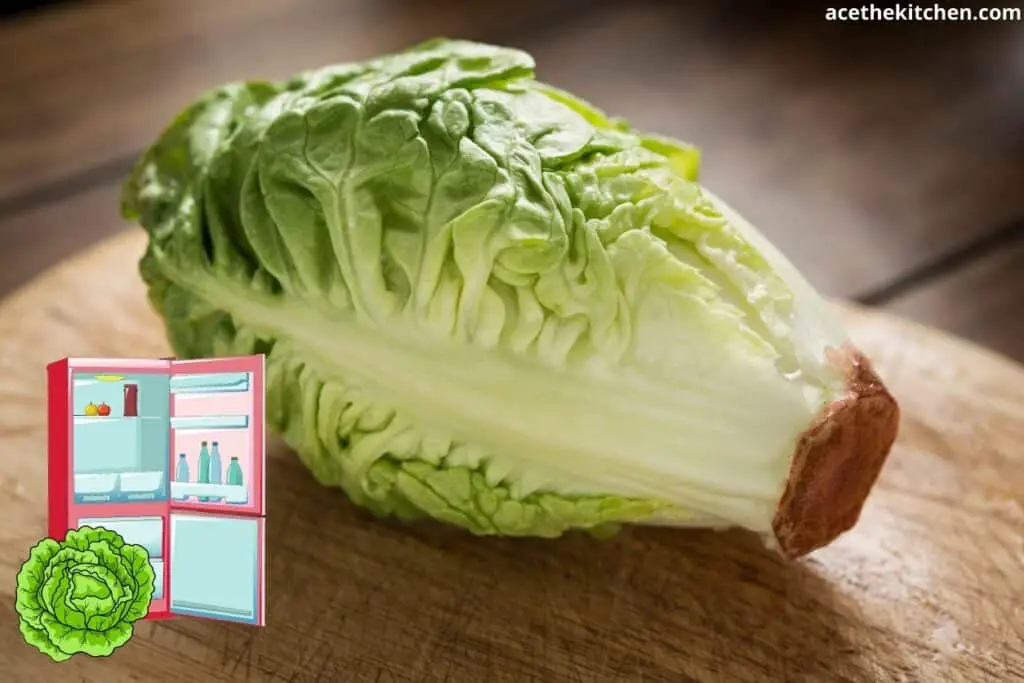 How to Tell Lettuce is Bad?
If you're not sure if your lettuce is bad, there are a few ways to tell. The first sign is usually a slimy texture. This is often noticed before any color change. You can still save the lettuce by cutting off the bad portions if you catch it early enough. However, if it's too far gone, you'll need to bin it.
You will notice a slimy texture as the outside of the lettuce degrades. This usually affects the outermost leaves first. The inside leaves will rarely be slimy before the outsides
You may then notice that lettuce is bad because the leaves will start to change color.
The color of lettuce can also be a good indicator of whether or not it is bad.
Typically, lettuce will start to turn brown or black when it is bad. If you notice any significant discoloration, it's best to throw that part of the lettuce away.
Pink discoloration or red color is also a sign that lettuce is starting to turn.
Eventually, bad lettuce will start to smell terrible or taste sour. This is the final stage and you should be well aware before this happens. Bin this lettuce. Rotten lettuce tastes like it's gone bad for a reason – it has!
What Does a Bad Lettuce Look Like?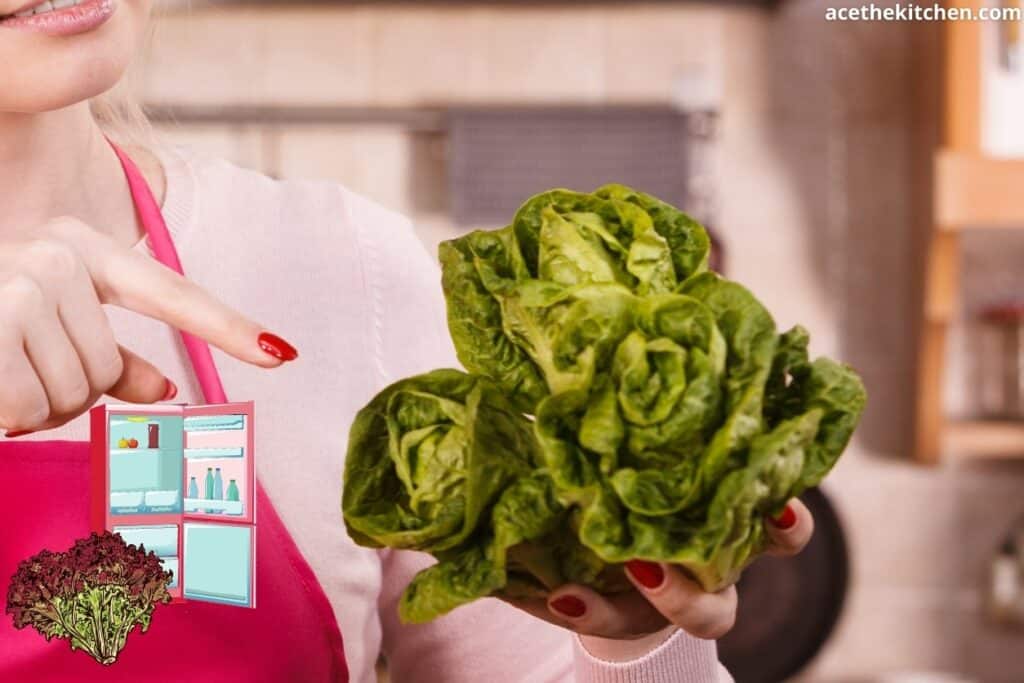 A rotten lettuce will have a slimy texture and will be discolored. The leaves may also start to smell bad.
Darker slime
Pink or red tinge on otherwise normal leaves
Yellowing of the lettuce head itself
Brown external leaves of the lettuce head (or chopped lettuce leaves)
Mould or fur
Is Lettuce Bad That Looks Pink?
Lettuce colors when subjected to high temperatures or significant amounts of oxygen. This is why lettuce starts to turn pink!
The pink tinge is a natural phenomenon that does not hurt you (if you eat the lettuce right away)
You should work hard to consume pink lettuce as soon as possible since this is an indicator that it will not be good for long!
Consume or discard pink lettuce before it turns. If in doubt, throw it out.
There's no evidence that old lettuce specifically causes food poisoning, but avoid eating slimy, stinky, or out-of-date lettuce to avoid unwanted bacteria. Don't risk it.
Can You Eat Lettuce That Turns Red?
Some lettuces are naturally red – and some turn a bit red as they get older.
The science that causes redness in lettuce isn't harmful and red lettuce can be eaten.
However, once lettuce begins to turn red, it must be consumed right away. It might acquire a somewhat harsh flavor.
If the roots of the lettuce or the leaves' margins are pink-to-red, it's a sign that the iron in the lettuce has oxidized. This indicates that the lettuce is not fresh.
When Should You Throw Out a Lettuce?
You should throw out lettuce when
It has slimy texture
It has a bad color
It smells bad
It tastes sour
Given that lettuce lasts only a little less than a week when stored correctly in the fridge – it is better to be safe than sorry.
It can be a bit confusing because some lettuces are naturally sour and have some redness (not to be confused with radicchio chicory – which is sour and has reddish color naturally also)
Can I Use a Lettuce That Is a Little Brown?
Yes. Brown leaf spots or ribs on lettuce may be aesthetically unappealing, but they do not indicate the lettuce is contaminated and should not be consumed.
Browning is caused by air exposure when the leaves have been bruised or sliced.
Brown lettuce isn't a health concern and doesn't indicate a shortage of nutrients. Still, most people dislike brown lettuce and would want to remove the discolored portions.
So sorry kids – you are okay to eat brown lettue. No escaping this vegetable!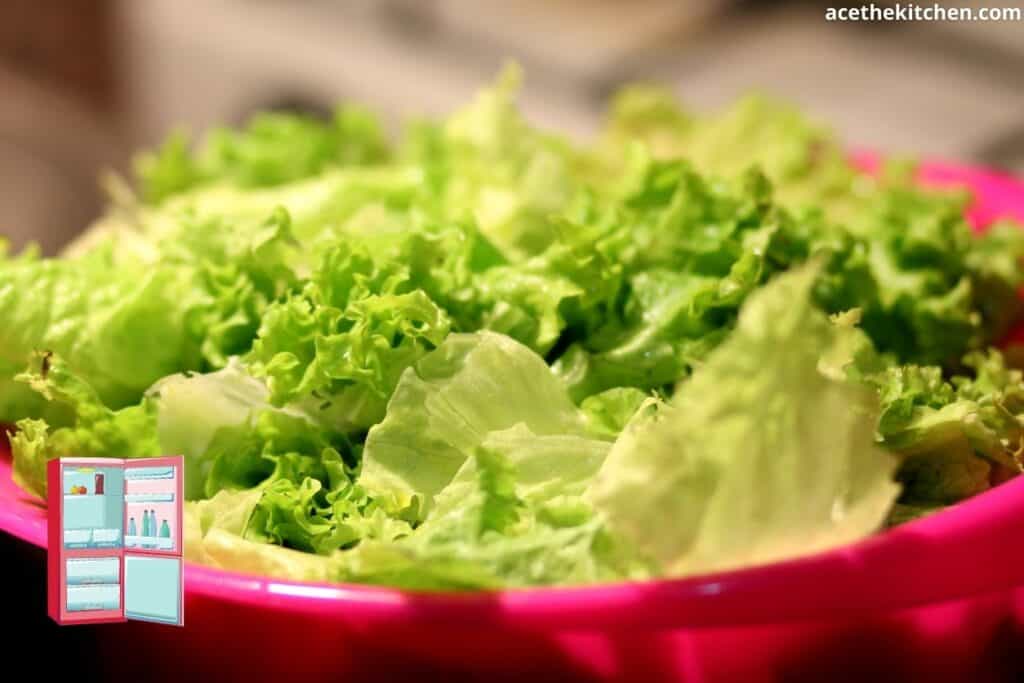 Can You Get Sick From Eating Old Lettuce?
While there is no evidence that eating old lettuce specifically will make you sick, it's always best to avoid eating any old food in order to reduce your risk of getting sick.
Rotten lettuce may contain harmful bacteria that can make you ill, so it's best to discard any lettuce that doesn't look or smell fresh.
Lightly brown or pink lettuce is very unlikely to get you sick from its age.
The most common cause of illness from fresh salad is actually the vegetable not being cleaned properly.
It is important to clean vegetables properly before eating them in order to reduce the risk of getting sick. Make sure to wash lettuce under running water, and use a vegetable brush to clean it if necessary.
How To Keep Lettuce Fresh
Keeping lettuce fresh really boils down to three key factors – removing the moisture, stopping oxygen, and keeping it cold.
To remove the moisture, you can blot the leaves with a paper towel or store them in a sealed container or bag.
To keep it cold, store the lettuce in the fridge.
To reduce the amount of air, store lettuce either in a contained crisper or inside a sealed plastic container.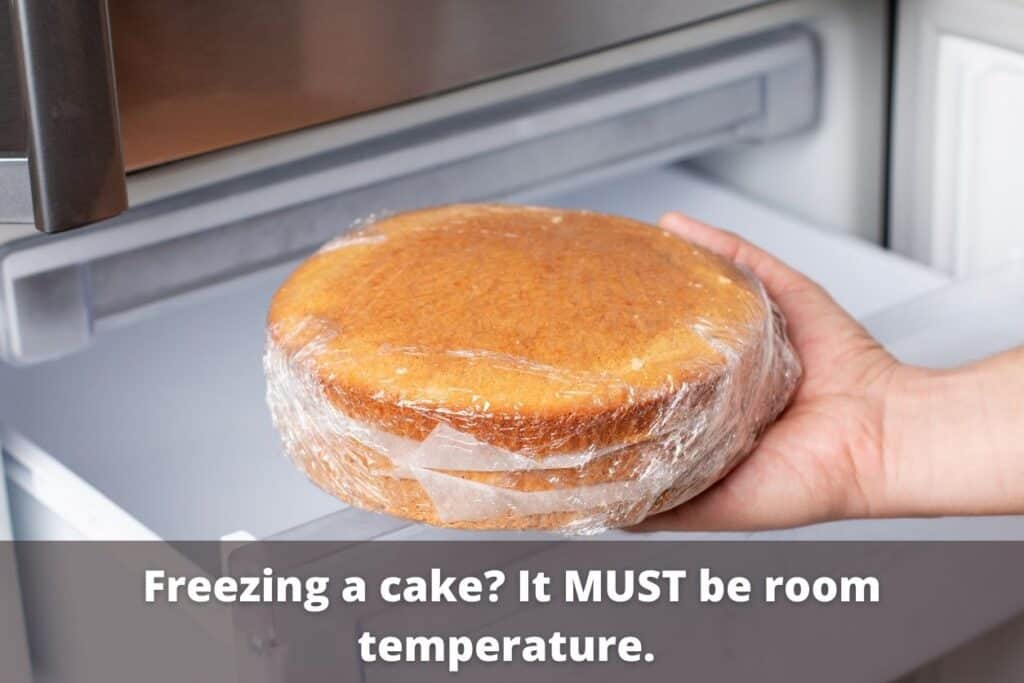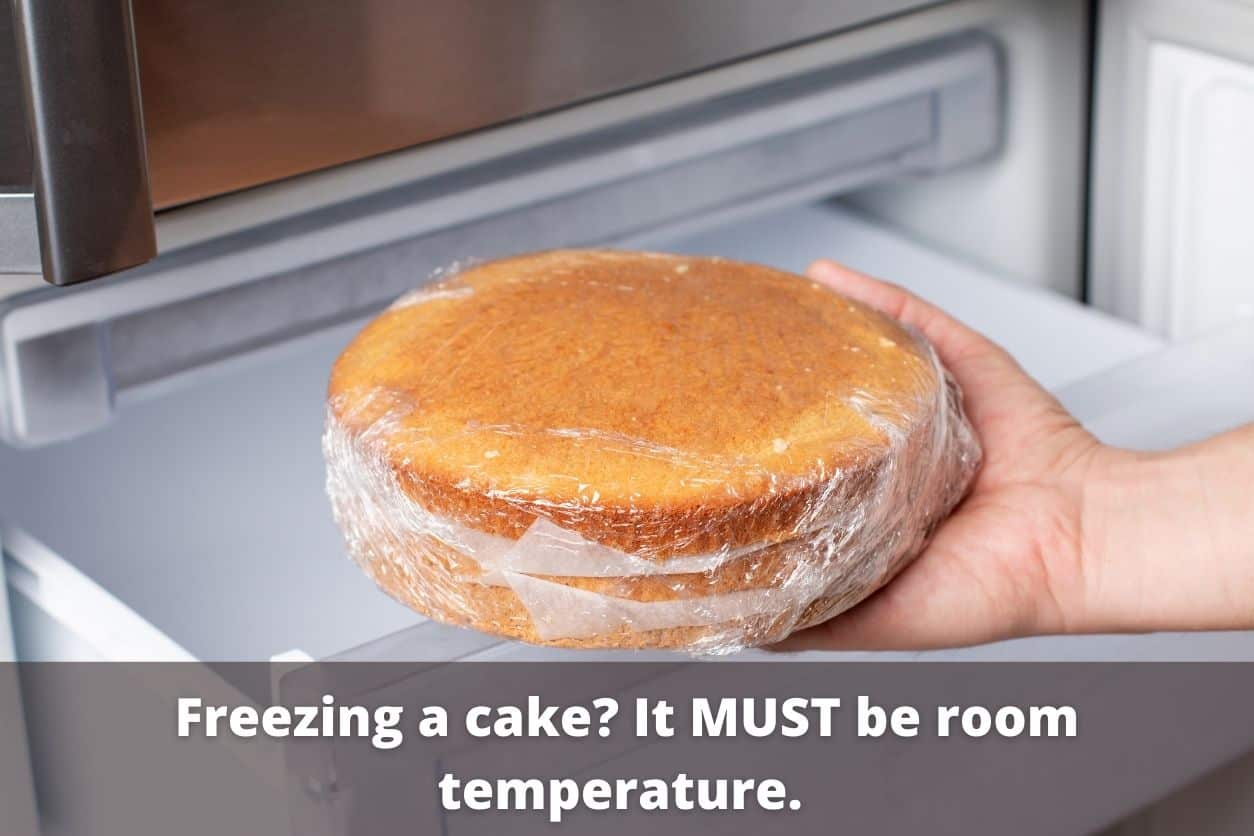 How to Store Bagged Lettuce
For bagged lettuce, there are three tricks to get the lettuce to last longer. Bagged lettuce will typically last (romaine or butter) for the expiration date on the bag +1-3 days.
Once opened, expect 1-3 days.
Only open the bag when you actually need to. Opening the bag exposes the lettuce to oxygen which starts the process of going bad. Reseal the bag after opening it with a food clip.
Put a paper towel into the bag once open. Moisture is another key enemy of our salad remaining fresh. A clean absorbent paper towel stored in the bag can reduce the moisture and prolong salad life.
Change the packaging to an appropriately sized airtight container.
How to Store Head Lettuce
Storing head lettuce is easy.
Wash and dry it, blot it with paper towels, and then store in an airtight space (in the fridge).
A vegetable crisper OR a plastic container are ideal.
For extra longevity, consider wrapping some paper towel around the head of lettuce to wick the moisture.
How to Store Loose Leaf Lettuce
If you have loose-leaf lettuce, or leftovers from a lettuce head, store them in the same manner as bagged lettuce.
The three things to consider are oxygen, moisture, and bruising.
The best is to store the dry loose-leaf lettuce in an airtight container. Add some paper sheets if you are worried about moisture.
Be mindful that any extra pressure can bruise the lettuce leaves and speed up the process of lettuce going bad. Be kind to the leaves if you want them to last longer.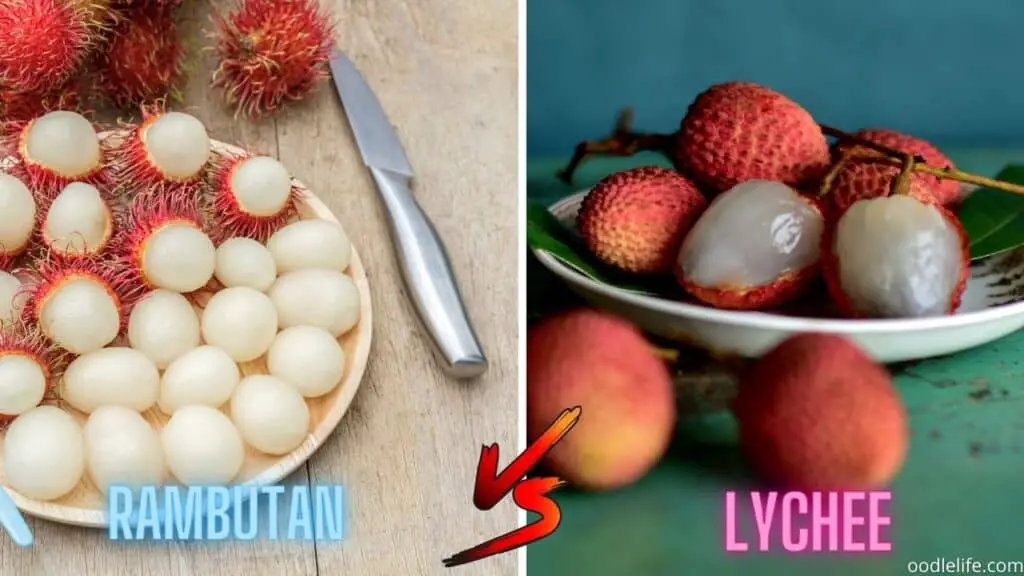 Can You Freeze Lettuce
You can technically freeze lettuce, but it makes it unpleasant.
Frozen lettuce can be used for cooking or smoothies – but really is inappropriate for use as salad.
The ice crystal process of freezing lettuce disrupts the cell walls and takes away both flavor and texture. Given enjoyment of lettuce is 80% texture… just don't do it.
If you DO freeze lettuce – here are the steps
shredded or as a lettuce head – it does not really matter – both will end up the same
expect frozen lettuce to last for 6+ months
you can try and separate and dry the leaves – but it won't matter much
separate the leaves, store them in freezer bags
the final step is spending a few minutes pondering whether it was worth freezing the lettuce (for most of us, the answer is no)
Butter lettuce (cos and romaine) does tend to freeze better than other types due to the structure of the plant.
Can Bad Lettuce Cause Diarrhea?
There is no strong link between eating over ripe lettuce and diarrhea. You should not go out of your way to eat bad lettuce.
However – there is a famous and important link between unwashed lettuce and food poisoning. Lettuce is a notorious carrier of bacteria, and if it is not properly cleaned, you can easily get sick. Make sure to always wash your lettuce under running water, and use a brush if needed.