Rambutan vs Lychee – Differences?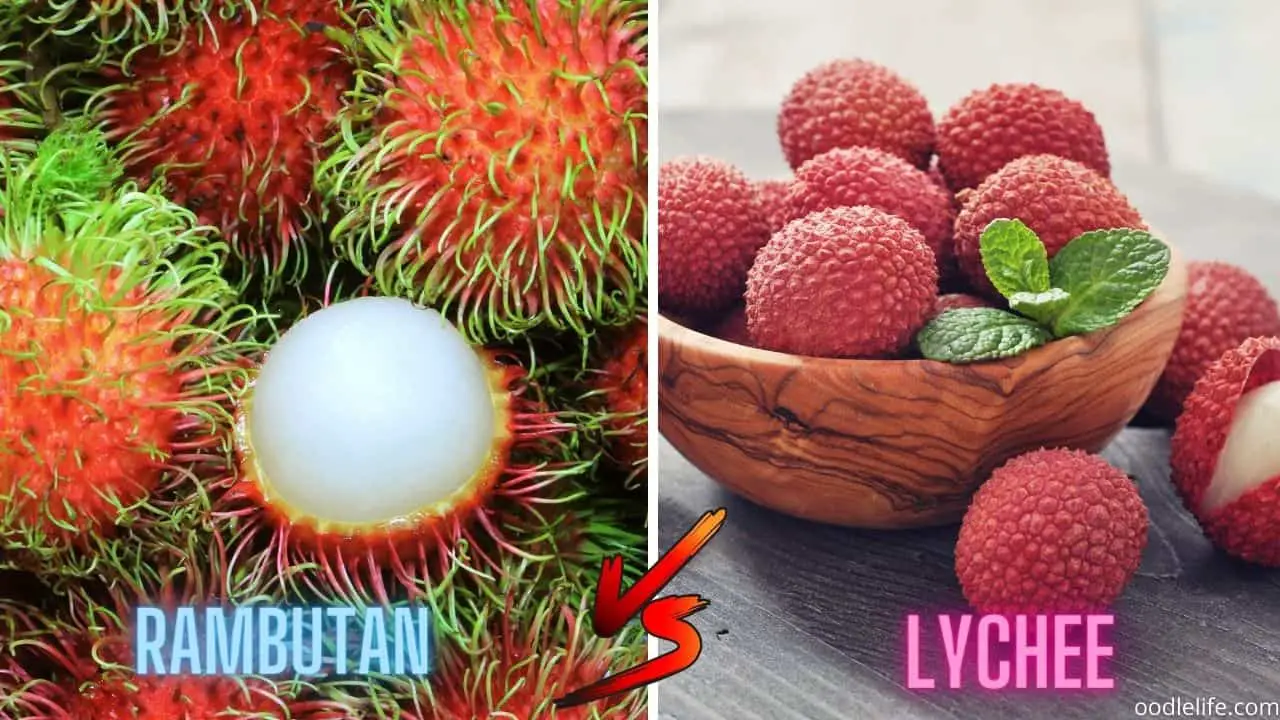 Rambutan and Lychee are two very popular fruits common in Asian cuisine. They are, however, often mistaken for each other due to their similarities in looks and their tropical origins. 
While Lychee is considered an exotic Asian fruit, Rambutan is often mistaken for domestic or South American. They are considered cousins and, while they do share many similarities, they also contain many differences from taste to their various health benefits.
To learn more about the similarities and differences between Rambutan and Lychee, continue reading below.
All About Lychee
Lychee is a fruit that has been growing in popularity over the last ten years. A tropical fruit that can be found on the Lychee Tree, otherwise known as the evergreen Litchi Chinesis, Lychee has become internationally known as a sweet and gooey treat. 
Originally grown in China and India, Lychee is now cultivated across the globe in warm climates, including Hawaii and even sometimes Florida.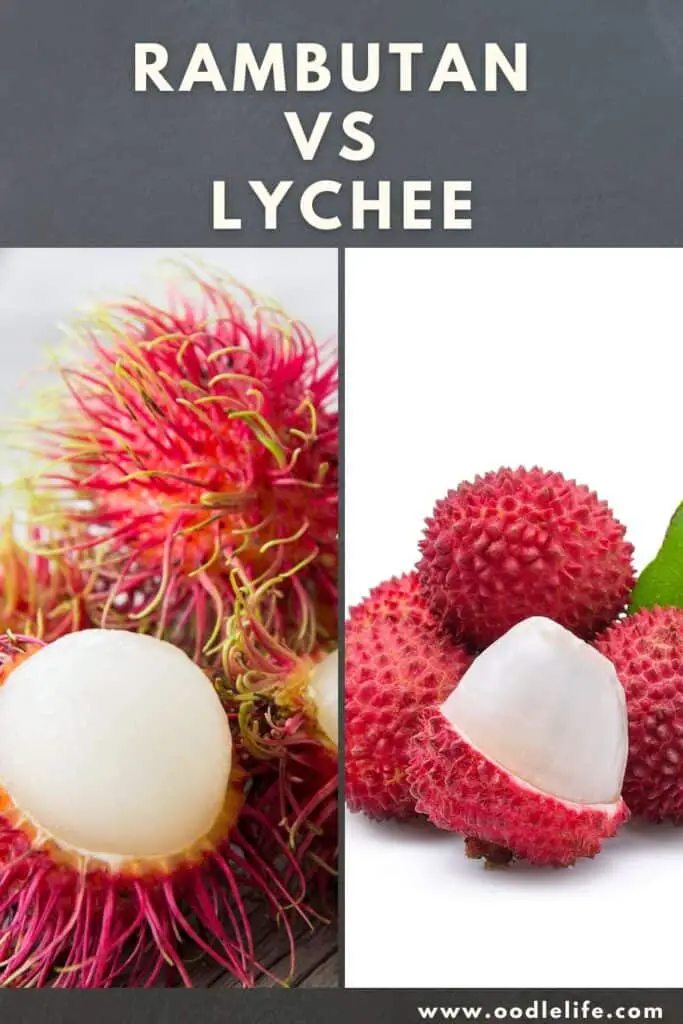 The characteristics of Lychee are a very bright red or deep pink aesthetic, sometimes looking burgundy colored depending on the exact climates and temperatures for the year. The shell of the Lychee is fibrous and sometimes referred to as scaly, and it easily peels away with the fingers. 
The Lychee shell somewhat resembles a small dragon fruit when unopened, but upon opening, one can find a soft and fleshy white or even beige fruit body with one big black seed nestled deeply in the very center.
The fruit is small, and its taste is both sweet and delicately tart. Often growing in bunches of 50 fruit clusters per bunch, fresh Lychees are a common delicacy found in Asian markets, sushi restaurants, many grocery stores, and even some frozen yogurt or boba bubble tea shops.
The Ins and Outs of Rambutan
Rambutan, much like Lychee, is another tropical fruit grown on a tree. It comes from the Rambutan Tree, also known as its scientific name Nephelium Lappaceaum. This tree is native to Southeast Asia's tropical climates and grown mainly across Malaysia, Indonesia, and Thailand. 
Rambutan, like Lychee, is deep red, bright red, or even burgundy in color. It is small and round and resembles little balls that can be grasped around 5 to an adult palm. Unlike Lychee, however, each Rambutan fruit is covered in bright green or yellowish hairs or fibers that can feel prickly or coarse. 
The Rambutan got its name from these prickly hairs through the Malay word "rambut", meaning hair, and the Vietnamese name "chôm chôm", meaning very messy hair. 
When these messy greenish hairs are peeled away with a knife, utensil, or with strong fingers, the texture of the Rambutan is soft and malleable like a grape with a sweet floral smell and taste to match its delicacy. 
About the size of an individual golf ball, Rambutan fruits also grow in clumps or clusters.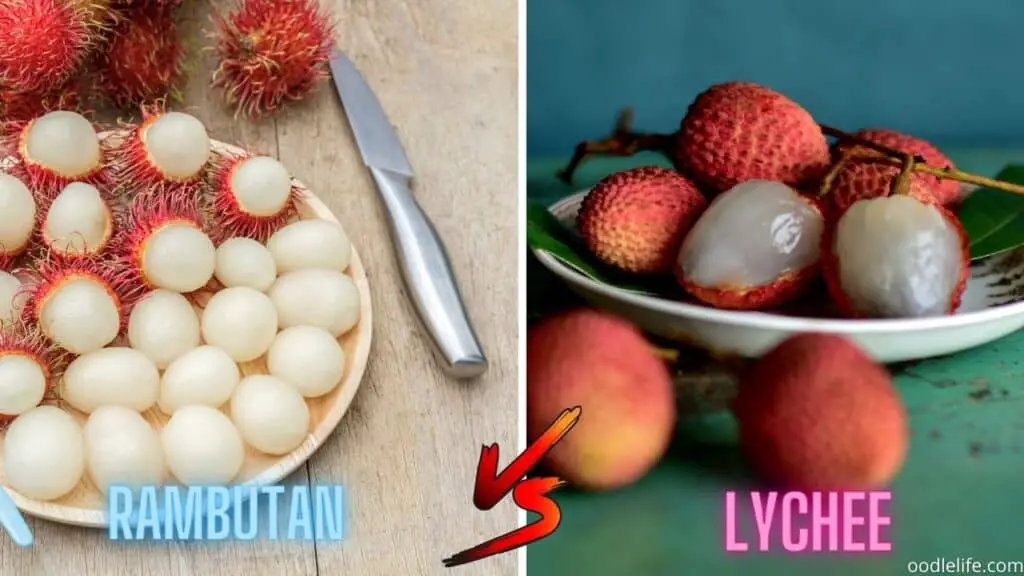 The Similarities Between Rambutan and Lychee
There are a few main similarities between Rambutan and Lychee that result in many mistaking them for each other in both flavor and looks. Some of the most striking resemblances include the following:
Appearance: The skins of Rambutan and Lychee share a similar color scheme, including reddish-pink color and thick shell. Their sizes and shapes are similar, while their insides both have creamy white flesh and dark-colored seeds.
Soapberries: Rambutan and Lychee are both considered to be Soapberries, also known as Sapindacaea. Other members of the soapberry family include the uncommon Longan Fruit and the tasty Horse Chestnut.
The way they're eaten: Rambutan and Lychee can both be peeled and eaten raw. The skin, however, should not be eaten. These fruits can be had by themselves as a snack or blended in a smoothie. They both bring out the sweetness of other foods and are often made into fruit salad or added to ice creams and alcoholic beverages like tropical martinis.
The Main Rambutan vs. Lychee Differences
While Rambutan and Lychee have many superficial and flavor-based similarities, their differences are almost even more striking once you get to know each fruit individually. These differences include:
The skin: Even though both Rambutan and Lychee have the same bumpy reddish-pink skin, Rambutan is much more flexible than Lychee. It can bend very far without breaking, making its skin harder to remove than the skin of Lychee fruit. Rambutan also has many green or yellow hairs covering its outer shell, while Lychee is much more smooth.
Size: Rambutan, while still small and round, is almost double the size of most Lychee fruits. The size of a Rambutan is usually compared to a golf ball, while Lychees are most similar in size to large varieties of grapes.
Their taste: While Rambutan and Lychee are both floral, sweet, and tropical as far as fruits go with an aesthetically matching center, Rambutan and Lychee have strictly different flavors from each other. Rambutan is much more creamy and resembles a fragrant dragon fruit taste. Lychee, on the other hand, is crisp and wet like watermelon and very refreshing.
The Health Benefits of Each Fruit
Rambutan and Lychee are both chock-full of vitamins, minerals, and exciting health benefits. While each has some immunity-increasing properties and benefits for digestion, they each offer vastly unique and differing health-benefiting options. 
The Health Benefits of Lychee
From increased immunity to smoother skin, Lychee's main health benefits can be narrowed down to a generous top four. While these health benefits can be rewarding, remember to always contact a doctor when seeking treatment for illnesses of any kind.
Increased Immunity
Lychee's high vitamin C content is so high that it contains more than 100% of the daily recommended dose for average Americans. It has a lot of ABA, or Ascorbic Acid, and can help your body defend itself against sickness and viruses.
Improved Circulation
With a high amount of iron in each serving, Lychee can help improve your circulation by urging your body to create more red blood cells or RBCs.
Smooths the Skin
If you are starting to worry about the wrinkles and marks of aging showing up on your face, consider eating more Lychee. Lychee can protect against free radicals and contains antioxidants to fight unwanted environmental stressors.
Increased Bone Density
With nutrients including iron, manganese, copper, and magnesium, Lychee is great for anyone wanting to increase their bone density. These vitamins can also help absorb calcium in the bones and help to avoid osteoporosis.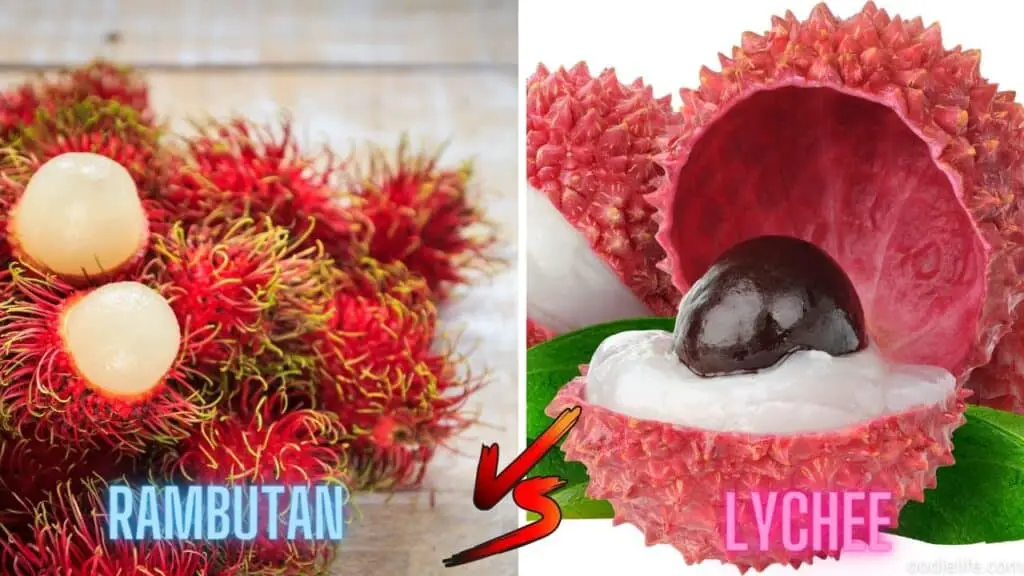 The Health Benefits of Rambutan
Much like Lychee, Rambutan's health benefits come from its multitudes of vitamins, minerals, and antioxidants. From promoting a healthy gut to assisting in the prevention of anemia, there are three main health benefits of eating Rambutan consistently. 
While these health benefits can be rewarding, remember to always contact a doctor when seeking treatment for illnesses of any kind.
Promotes Healthy Digestion and Gut Bacteria
With a lot of fiber per serving, Rambutan promotes healthy digestion and regular bowel movements. While this does not sound like a glamorous perk, it is incredibly important to our overall health. 
Since the Rambutan is made of insoluble fiber, it passes through the body without being digested and therefore has a cleansing effect. Rambutan also has gut-friendly bacteria that can act as a probiotic to produce healthy fatty acids.
Improves Eye Health
Rambutan is great for the eyes because it contains a lot of vitamin A and vitamin C. Due to its high vitamin content, eating anywhere from 3 to 5 Rambutan fruits every day can help get rid of eye pain or even alleviate long-term eye issues.
Helps to Prevent Anemia
Anemia can be found in both men and women of all ages. In order to help prevent anemia, utilizing Rambutan's erythrocytes can add iron to your blood and help it circulate.
Rambutan and Lychee: A Delicious Duo
While Rambutan and Lychee are quite different from each other in many ways, they still make a wonderful duo for eating together. Whether you plan to blend them into a smoothie, eat them as dessert, or put them in a salad, their benefits and flavors are both unique and delicious.