Kitchen Hacks: How To Reheat Sushi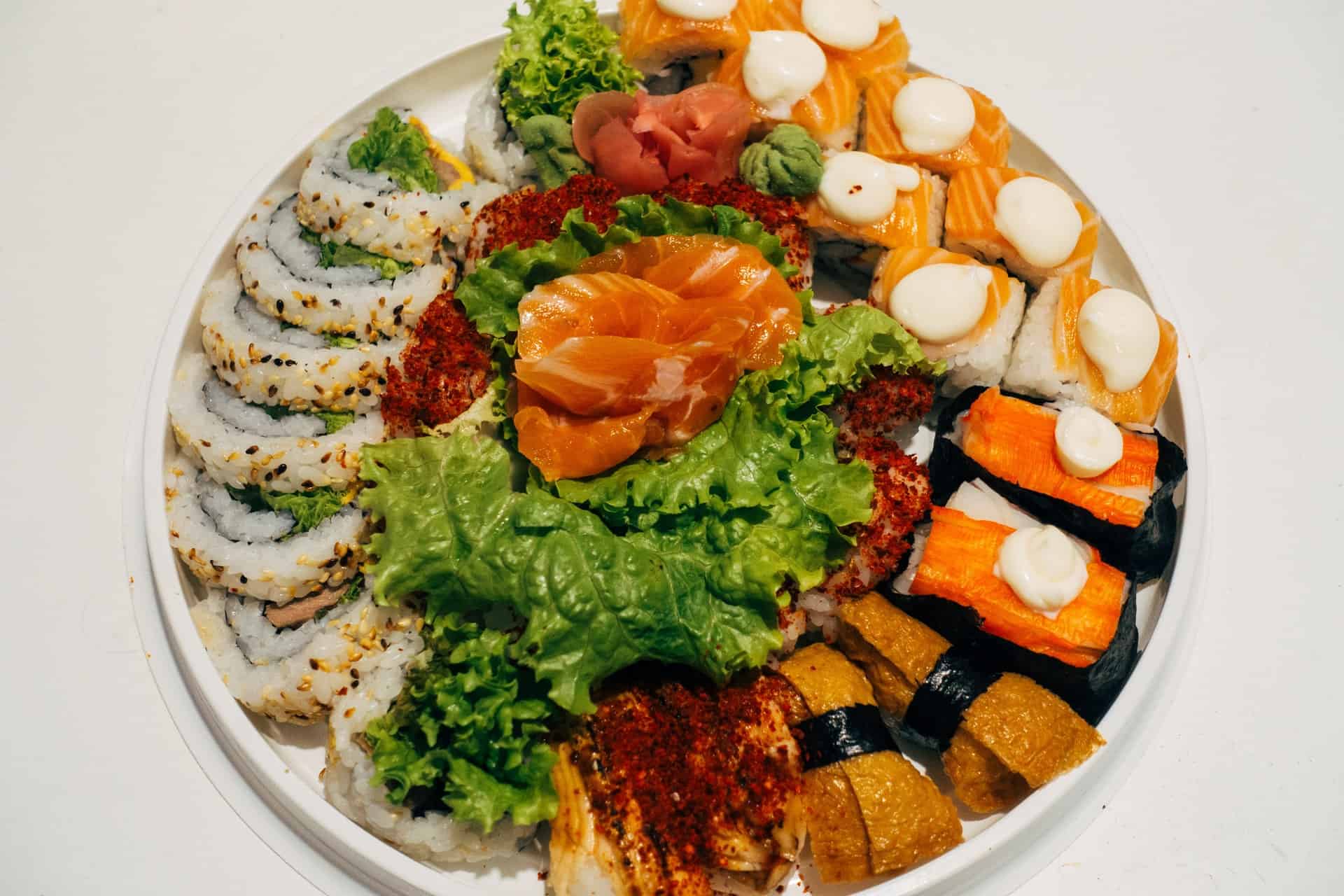 Learning how to reheat sushi can't be so daunting. Sometimes it's almost impossible to find a sushi delivery place near your home. But don't worry! With these simple tricks, you can make a quick and easy meal that will have everyone coming back for more. Assemble the ingredients of this delicious dish, then get cooking in your kitchen.
This article will teach you how to rewarm sushi to perfection and make the best Japanese meal ever.
Steps On How To Reheat Sushi
To reheat sushi in the microwave, add it to a dish with room-temperature water.
Place this on your chosen heating element for 10 seconds and check if you need more time before eating or transferring over other ingredients as desired!
Heating at low settings will make sure that all flavors remain intact while also avoiding cooking too quickly which can cause dried out cheeks from being undercooked Outer layers may start getting crunchy but should still be chewy within so don't panic
How Does Sushi That Is Heated In The Microwave Taste?
Sushi that is heated in the microwave tastes different from sushi that is heated in the oven because microwaves cook food differently than ovens. Microwave radiation heats up food by causing the water molecules to vibrate and loosen their bonds, which creates steam inside of the food.
Furthermore, microwaves cook food at a high rate of speed, which makes it different from cooking in an oven. This allows you to heat your meal quickly without overcooking it.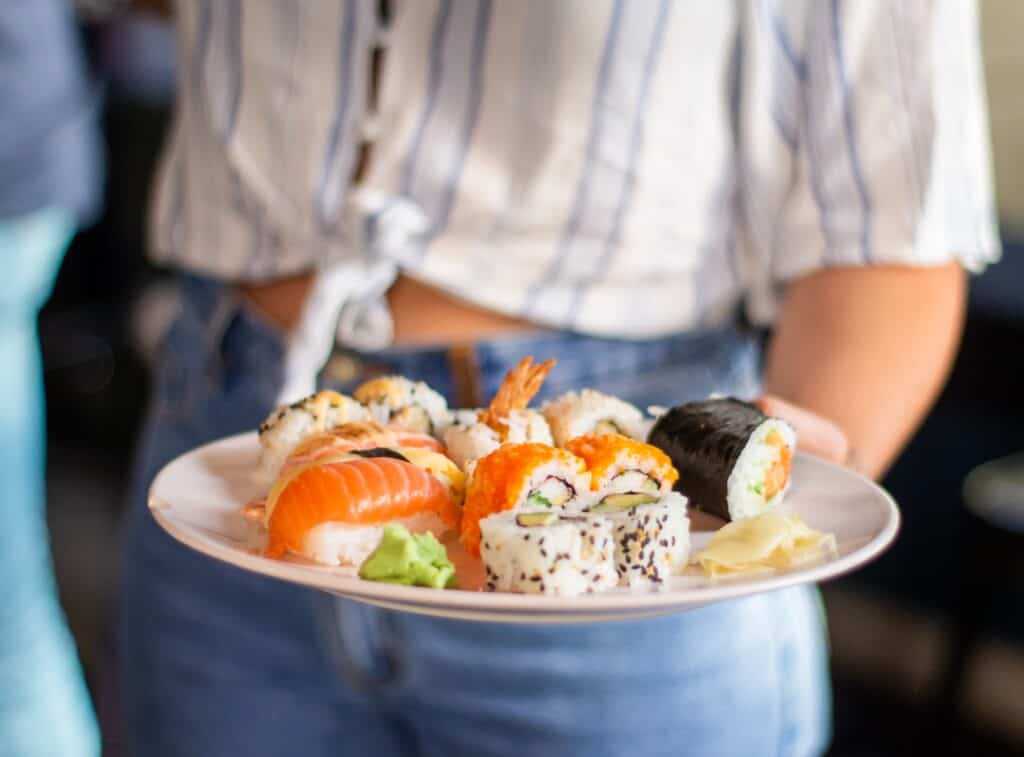 Useful Tips On How To Start Reheating The Sushi Inside The Microwave
To start, place the sushi on a plate and cover it with a damp paper towel. This will help prevent the rice from burning. Next, turn on the microwave and set it to 160 degrees Fahrenheit. This is the perfect temperature for reheating sushi.
Let it cook at this temperature for 90 seconds. Finally, remove the lid of your microwave and allow it to steam for 10 seconds more until all of the liquid has been absorbed by the rice.
This process should only take 3-5 minutes total!
What Is The Best Temperature To Reheat Sushi?
The best temperature to rewarm sushi is 350 degrees Fahrenheit. The temperature range of 350-400 degrees allows for the rice to completely cook and the fish to be hot and fresh. If you are using raw fish, there are no health risks associated with eating it because the bacteria have died off by the time it cools down.
For example, if you wanted to reheat sushi in a microwave oven, set it on a low power setting and keep an eye on your food. You might want to transfer or divide your meal into smaller portions so it doesn't overcook or burn.
Can I Revive The Sushi Without Reheating?
Yes, you can. You can revitalize sushi without using heat if you've left it in the fridge overnight. This technique is handy for maki rolls with veggies, tempura, and ingredients that need to be softened or made less stiff so they don't fall apart when eaten coldly – such as fish wrapper (fish swimmer) filled brown rice paper bags commonly used at Japanese restaurants everywhere!
In order words: this hack will also restore nutrients into hard-topped rice ball-style cooked dishes which have been sitting around too long since their deliciousness starts from inside out
How To Reheat Sushi With A Pan Fry
You can rewarm sushi by pan-frying it. You can also use a microwave to warm the sushi, but I find that the pan fry method has the best results. To do this, you will need a few ingredients:
First, take your sushi rice and spread it out on a baking sheet lined with parchment paper.
Sprinkle the seasoning over the rice, then cover it with Panko bread crumbs and a thin layer of vegetable oil. Bake for about 5 minutes at 375 degrees Fahrenheit.
Next, in another bowl combine 1/2 tablespoon of vegetable oil and 1/2 teaspoon of salt with 1/4 cup of water. Once mixed, take your baguette slices and dip them in the mixture until they are soaked thoroughly and lightly coated. Cook them on both sides in your pan or oven until they're crispy and soft.
Finally, separate the reheated baguette into sticks and add them to your sushi before serving it!
How Long Will The Sushi Last?
When you have sushi, it's important to keep the sushi at the right temperature. Sushi that is at room temperature should be eaten within 2 hours of preparation. If you are eating it cold, then it can last up to 4 hours.
Should I Refrigerate Sushi?
First, should you refrigerate your sushi? The answer is yes! Take it out of the refrigerator an hour or two before you plan on eating it to make sure it's not too cold.
Can I Bake The Sushi Inside An Oven?
First, preheat your oven. Secondly, line the baking sheets and aluminum foil, then spray the foil with some cooking spray.
Next, place a sushi roll on one of the prepared baking sheets and cover it with a piece of parchment paper or aluminum foil. Place another sushi roll on top and repeat this process 3 times. This will create three layers of sushi rolls in one baking sheet.
Bake the sushi rolls for 20 minutes on each side, or until they are crispy and crunchy all over. Next, unwrap each layer and combine them into one large whole layer of sushi if desired. Each layer can be cut into individual pieces for individual people to enjoy.
The result is delicious warm torched tuna, salmon, cucumber, avocado, lettuce, pineapple, and tomato that you can enjoy as a meal or as an appetizer!
You are fully equipped with all the information you need about how to reheat sushi, head to your kitchen, and warm that delicious sushi.
Popular Articles